Industry Overview
During 2020, the global chemicals industry was valued at close to US$5,027 billion, with China accounting for a substantial market share, followed by the European Union and the United States. According to the F&S Report, the global chemicals market is expected to grow at a CAGR of 6.2% from US$5,027 billion in the calendar year 2020 to reach US$6,780 billion by the calendar year 2025. 
According to the F&S Report, from calendar years 2020 to 2025, the Asia Pacific (APAC) chemicals market is expected to grow at the fastest rate of 7-8%, while the chemicals markets in Western Europe, North America, and Japan are expected to grow at a slower rate of 3-4% since they are relatively mature. 
In the calendar year 2020, the Indian chemicals industry was valued at US$186 billion. This is ~ 4% of the global chemicals industry. According to the F&S Report, the value of the Indian chemicals industry is expected to grow at a CAGR of 12.2% from US$186 billion in 2020 to US$330 billion in 2025. According to the F&S Report, in fiscal 2020, the Indian chemical industry contributed approximately 6.6% of the national gross domestic product and accounted for 15- 17% of the value of India's manufacturing sector.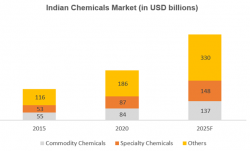 Several global players prefer a "China + 1 offshore strategy" due to which manufacturing capacities are shifting to cost-efficient markets with strong technology capabilities like India. Stringent environmental regulations and increased cost of labor have already stifled growth in China. The pandemic has worsened the situation and businesses are looking for alternatives.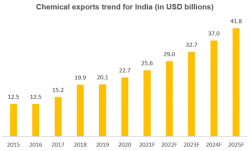 ---

New Short Course Launched - Fixed Income Markets Click here

---
Specialty Chemicals
Specialty chemicals are low-volume and high-value products that are sold on the basis of their quality or utility. Thus, they may be used primarily as additives or to provide a specific attribute to the end products. 
The focus is on value addition to the end products and the properties or technical specifications of the specialty chemicals. As industries are moving out of China, this brings in enormous opportunities for India to increase the manufacturing of specialty chemicals. Some businesses have considered this as an opportunity for import substitution or to increase India's export share. China is closing down chemical industries due to environmental concerns which is helping India's market to expand.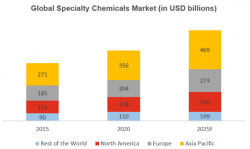 According to the F&S Report, during the calendar year 2020, the global specialty chemicals market was estimated at US$847 billion. Pharmaceutical API and agrochemicals & fertilizers were the largest two segments that contributed to the industry, accounting for approximately 25% and 24% of the industry.
In 2020, China, India and Japan represents the largest agrochemicals markets in the Asian continent. In 2020, China is leading the agrochemicals market with its developing agricultural sector along with the need for its growing population. Globally, China is not only the largest producer but also the largest consumer of fertilizers.
Nutrition Industry
The nutrition industry is one of the most robust and fast-growing markets. The growing health and wellness trend, changing food landscape, increasing demand for fortified food products and growing demand for nutritional supplements packed in single tablets and capsules have been instrumental in driving the growth of this market. Vitamin and Mineral supplements are added to the feed according to the type of livestock, life stage, permissible formulations, dosage, and nutrient composition of the feed.
The market for vitamin feed supplements is projected to be valued at US$ 5,051.5 million by FY 2025 at a CAGR of 7.2% from FY 2020 to FY 2025. The Asia Pacific market accounted for the largest share of 28.4% in FY 2019 and is projected to grow at a CAGR of 7.4% during the forecast period. RoW (Rest of the World) is projected to be the fastest‑growing market at a CAGR of 7.7% from FY 2020 to FY 2025.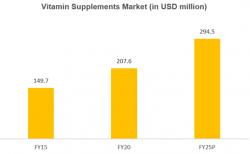 Nutraceutical products
The growth in nutraceutical products is attributed to the increasing number of health-conscious consumers, along with the increasing demand for functional food, functional beverages, and dietary supplements. In India, nutrition structure/function health claims are permitted, and nutritional labeling is mandatory for all functional foods as per the Food and Safety Standards Act (FSSA), 2006. In India, the rising healthcare costs and adoption of preventive measures for diseases is driving the nutraceutical products market.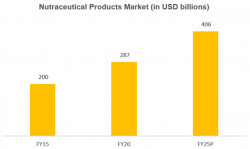 Jubilant Ingrevia  – Company Overview
Jubilant Ingrevia got started in 1978 as VAM Organic Chemicals. They have a strong presence in diverse sectors like Pharmaceuticals, CDMO (Contract Research & Development Services) and Therapeutics, Specialty Chemicals, Nutraceutical Products and other Life Science Products, Performance Polymers, Food Service (QSR), Auto, Consulting in Aerospace and Oilfield Services.
The Company offers a broad portfolio of high-quality ingredients that find application in a wide range of industries. The Company has 2,064 employees and serves more than 1,400 customers in more than 60 countries across the world. The Company's portfolio also extends to custom research and manufacturing for pharmaceutical and agrochemical customers on an exclusive basis. They have 61 plants spread across 5-sites in 3 states (UP, Maharashtra, Gujarat).
Demerger from Jubilant Life sciences was done on 01.02.2021 and Jubilant Ingrevia was listed on 19.03.2021
Key achievements
● Globally # 1 in 17 Pyridine Derivatives – Globally among Top 2 in (Pyridine + Beta)
● Global Leadership in Niacinamide; Globally among top 2 in Vitamin B3 (Niacin & Niacinamide) – Leader in India Vitamin B4 (Choline Chloride)
● Globally the business is amongst the top 2 in Acetic Anhydride and they are also the largest manufacturer of Acetaldehyde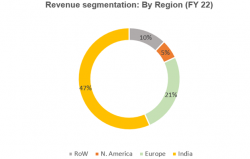 Core Application Markets
The business is supplying key raw materials, intermediates and finished products to various different segments.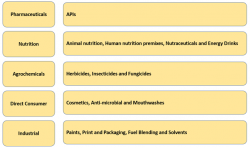 Business is on an expansionary stage and the CAPEX plans for the next 3 years are expected to increase revenues from operations.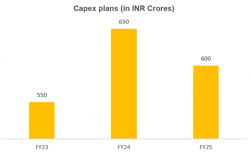 Complete backward and forward integration in its value chain linking all the segments of the business.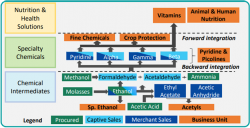 Jubilant Ingrevia  – Business Model

The business is split into 3 segments –
Life Sciences

Specialty chemicals

Nutrition
Margins are volatile in the life sciences business whereas it's sustainable in the other segments. 
Integrated operations at Jubilant Ingrevia
45% of the overall volume of Chemical Intermediates are in-house consumed by

Speciality Chemicals segment

52% of Pyridine & Picolines volume is used in-house for value-added products in Specialty Chemicals & for Vitamin B3

100% in-house sourcing of Beta Picoline (Key RM) from Speciality Chemicals for Vitamin B3
Specialty Chemicals' overall revenue for FY22 grew by 24% over the previous year FY21 mainly due to volume growth of 16%. This growth has come both from the domestic market as well as from the international market. 
Nutrition & Health Solutions overall revenue for FY22 grew by 22% over the previous year FY21, mainly due to volume growth of 9%.
Overall revenue of Chemical Intermediates for FY22 grew by 61% over the previous year FY21 due to volume growth of Acetic Anhydride as well as for price realization both in Acetic Anhydride and Ethyl Acetate.
Food and cosmetic revenue have gone up significantly with 48% and 56%, respectively.
Valuation
We will perform a simple variable-based valuation exercise to see where the business stands today and the growth potential in the next 3 years.
The revenue of Jubilant Ingrevia for the period ended FY 2021-22 is INR 4,949 Crores. As per the management's guidance, there is a CAPEX of INR 2,050 Crores planned for the next 3 years. Out of this, INR 1,600 Crores will be attributed towards the high-margin products like specialty chemicals and CDMO.
We understand that the gross block has the potential to double in the next 3 years. Due to the doubling up of the gross block, we would expect a corresponding impact on improvement in revenue. There will also be a change in the product mix which will improve profitability. The bull case is as per management estimates.
Deepak Nitrite is the closest peer as it is into bulk and specialty chemicals. Management expects revenue at INR 9,500 Crores by FY26-27. If Jubilant Ingrevia goes to 25X P/E multiple, we will get a market capitalization of INR 31, 200 Crores (PAT * P/E Ratio).

Let's consider a discount to management's estimates and consider revenue at INR 8,500 Crores as a bear case. P/E multiple remains at 15. However, the market capitalization grows at a CAGR of 10.85% giving an increased shareholder value. 
While the estimates look positive for the business, it requires quarterly monitoring due to the uncertainty of environmental and social concerns along with changes in business strategy due to external factors.
---
---
To stay updated about all of our posts on Businesses and Finance Careers – register and create a free account on our website. You will also get access to a free Finance Bootcamp course once you register. 
Register and get regular updates of new Blogs and access to Free Courses
Top Courses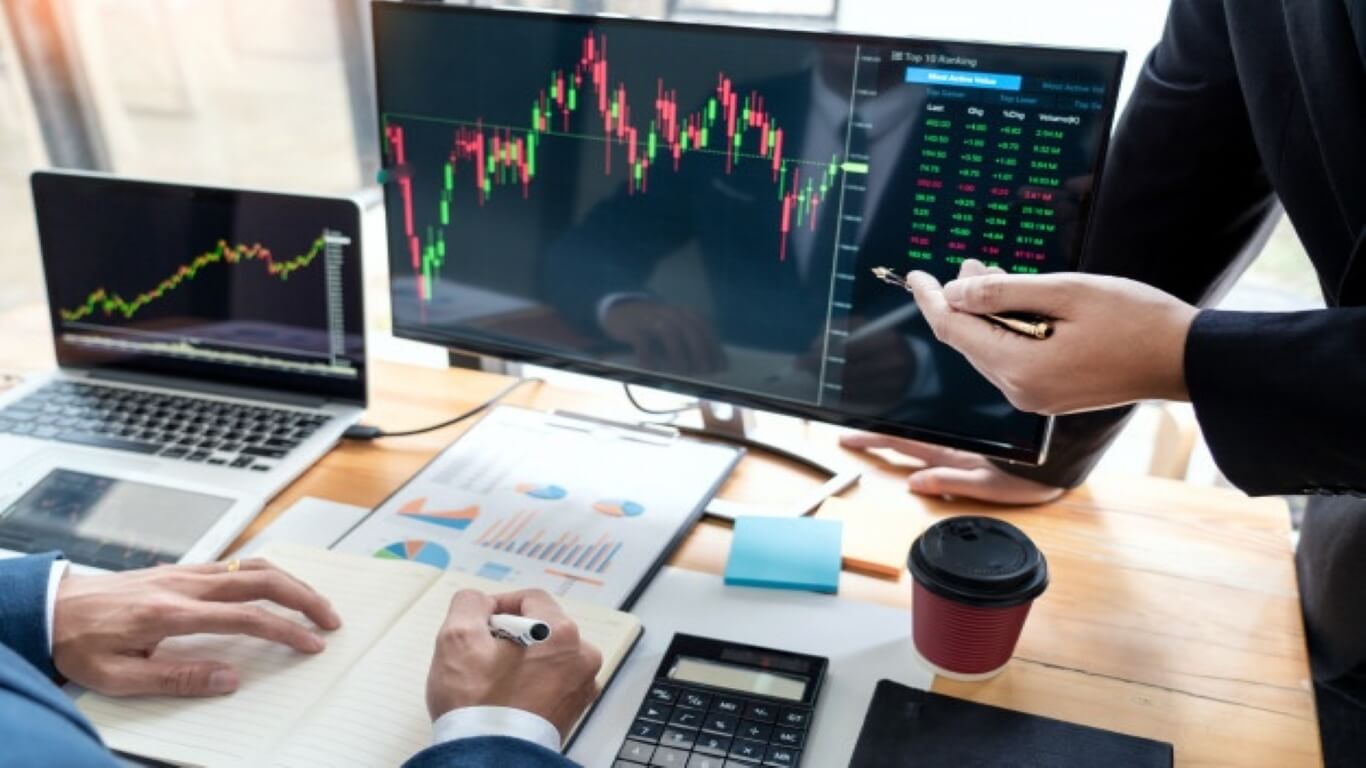 Combo
Equity Valuation + Investment Banking
Peek into the world of IB, PE, VC

Build Valuation Model on 3 different listed companies

Live Projects with FinShiksha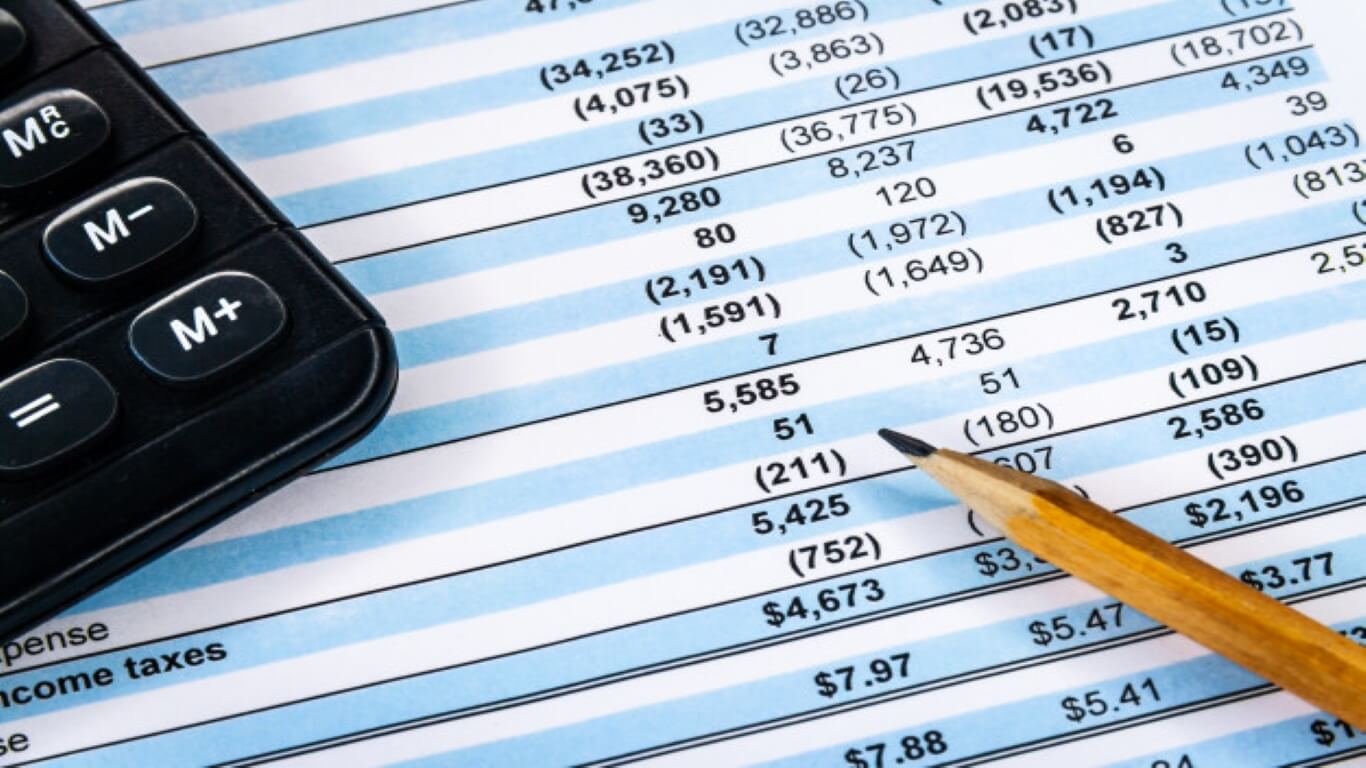 Applied Financial Statement Analysis Certification
The most comprehensive course on Financial Statement Analysis in India

Live Project with FinShiksha

Decode Financial Ratios and the story behind them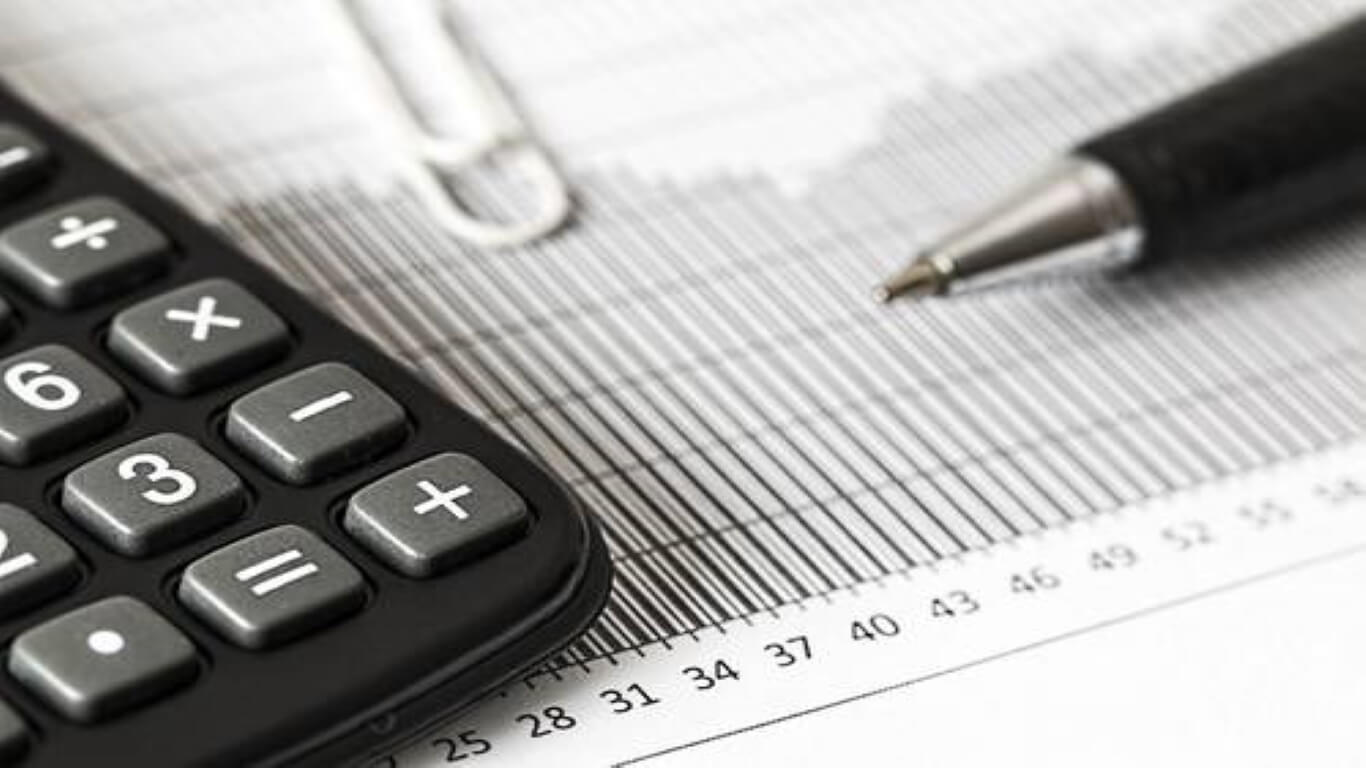 Trending
Financial Modeling Certification
Learn Advanced Excel Concepts

How and Where to use Key Functionalities in Excel

Learn Applications of Excel across Finance