The fundamental source of information available to investors before investing in any company's Initial Public Offering (IPO) is via Draft Red Herring Prospectus (DRHP).
A DRHP is a lengthy document available on SEBI, stock exchanges, and lead managers' websites, giving details around the market, the Company with financials.
There are various terms used for prospectus depending upon the stage and type of issue.
Draft offer document
Document filed with SEBI before it is filed with Registrar of Companies (RoC). It enables the public to give comments on the draft offer document.
Red herring prospectus
Used in case of a book-built public offer, it contains all relevant information but excludes price or number of shares being issued, filled with RoC before the issue open.
Prospectus
Consists of all relevant information, including price and number of shares being offered. It is registered with RoC before the issue in case of fixed cost and after the problem in the book built matter.
Here are some essential points to note in a Prospectus that will simplify reading the prospectus:
Risk Factors: The issuer company has to disclose risks and uncertainties related to the Company in the prospectus. External threats generally include risks which affect all the companies irrespective of the sector in which it operates. While internal threats are specific to the company, these risks must be carefully analysed.
---

Festival Offer !!! Discounts on all Courses Click here

---
Illustration:
A few critical risks are mentioned in the IPO that an investor must analyse before investing in Vijaya Diagnostic Centre Limited.
We depend on third parties to provide us with our testing equipment and reagents. Any failure to continue to do so or recall existing testing equipment and reagents could adversely affect our business, results of operations, and financial condition.
Any interruptions at our flagship centre and other diagnostic centres may affect our ability to process diagnostic tests, which in turn may adversely affect our business, results of operations, and financial condition.
There are outstanding legal proceedings involving our Company, Subsidiaries, and Directors which may adversely affect our business, financial condition, and results of operations.
All the above will have a significant impact on the financial and operational performance of Vijaya Diagnostic Centre Limited.
The objective of the Offer: IPO is conducted either to sell the existing shares held by promoters to investors or new shares are issued to investors.
Illustration:
Ami Organics Ltd offered Rs.370 crore as an offer for sale and Rs.200 crore as a new issue. The objective of the proposal was:
Repayment of current borrowing
Funding incremental working capital requirements of the Company
To meet general corporate purposes
Industry Overview and Our Business
The industry overview and our business section of IPO provide details on the Company's industry and the business model.
Important details to note from this section are industry size, future size of the industry, Growth drivers, the Company's position in the industry, comparative analysis of the companies in the sector, and risks associated with the industry. This section indicates the Company's current and future potential performance.
Illustration: Vijaya Diagnostic Centre Limited

The growth drivers for the industry are as follows. Any change in the drivers can have a material impact on the growth of the Company.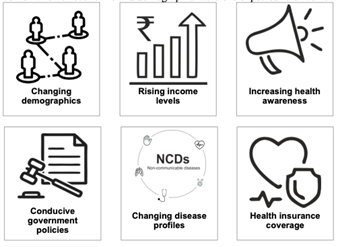 One of the essential points to note here is Company faces intense competition due to low entry barriers.

Comparative analysis of the companies in the sector leads to :
The number of tests offered by Vijaya is less when compared with competitors.
Vijaya's business model is more inclined towards the B2C model as compare to its competitors.
Vijaya has the second-highest growth in revenue and operating income from FY17 to FY20 after Lucid.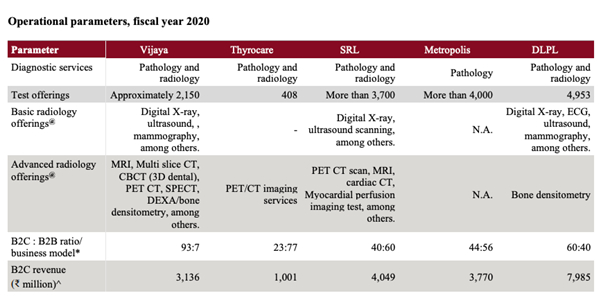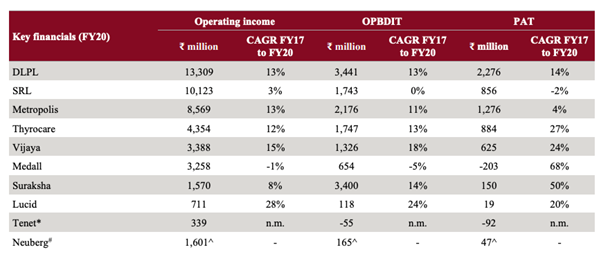 Our business section consists of important parameters to assess the Company and business model of the Company.
Illustration
The Company offers a one-stop solution for pathology and radiology testing services.
The Company has 80 diagnostic centres and 11 reference laboratories across 13 cities and towns in Telangana and Andhra Pradesh, the National Capital Region, and Kolkata.
In 2021, Vijaya derived 96.2% of our revenue from operations from core geographies.
The year ended March 31, 2021; the Company conducted approximately 6.20 million pathology tests and 0.89 million radiology tests for about 2.63 million customers.
Tests per customer visit were 2.8, our operating revenue per customer was ₹ 1,214, and operating income per test was ₹ 428 for the fiscal year 2020.
Business Model of the Company derived from the prospectus:
The Company has implemented a "hub and spoke" model within which diagnostic staff at diagnostic centres collect the specimens required for pathology tests and conduct radiology tests.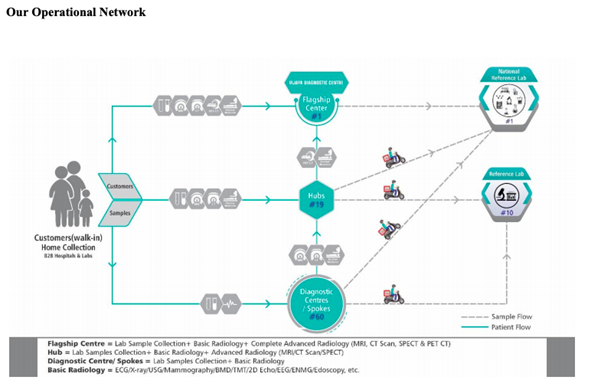 Strategies adopted by Company:
Deepen Footprint in Core Markets
Leveraging our Existing Presence by Focusing on Setting up Spoke Centres and Increasing Home Collection in Existing Catchment Areas
Expand in Adjacent Geographies and East India
Supplement Organic Growth with Selective Acquisitions
Financial statements 
The Core of reading DRHP involves analysing the Company's audit reports and financial statements, i.e. profit & loss statement and balance sheet.
Firstly, we look at the auditor's comments on the financial statement. A qualified auditor's opinion should be carefully studied.
One can also calculate different types of ratios, and then a comparison can be made.
One important point to note in the financial statement is related to party transactions. An investor must look at the size of related party transactions concerning sales or balance sheet size.
Management
We can note a few things from the "our management" section of the DRHP.
Promoters of the Company: A simple google search on the supporters whether there are any previous legal litigations against promotors, which could materially impact the Company.
Relationship between promoters and their holding: It helps to understand how closely the supporters and relatives hold the Company and the holding is available in the capital structure.
Promoter and management's remuneration and its size concerning the Company's profit: A high number must be scrutinised.
All the above are few points which an investor must consider before investing in an IPO and this is in addition to the topics one has to go through from the standard annual report (these points are also a part of DRHP).
Do give it a try and let us know the outcome 🙂
---
Other Trending Post in this Series –
---
To stay updated about all of our posts on Businesses and Finance Careers – register and create a free account on our website. You will also get access to a free Finance Bootcamp course once you register. 
About the Author

Have worked in the financial services industry for around 8 years now, and main areas of work have been Sector Research, Risk Management, Financial Modelling and Wealth Management.
Involved in the developoing content as a part of training in various Organizations like Kotak Securities, Motilal Oswal, Nippon Mutual Fund(erstwhile Reliance Mutual Fund), JPMC, Crisil.

Register and get regular updates of new Blogs and access to Free Courses
Top Courses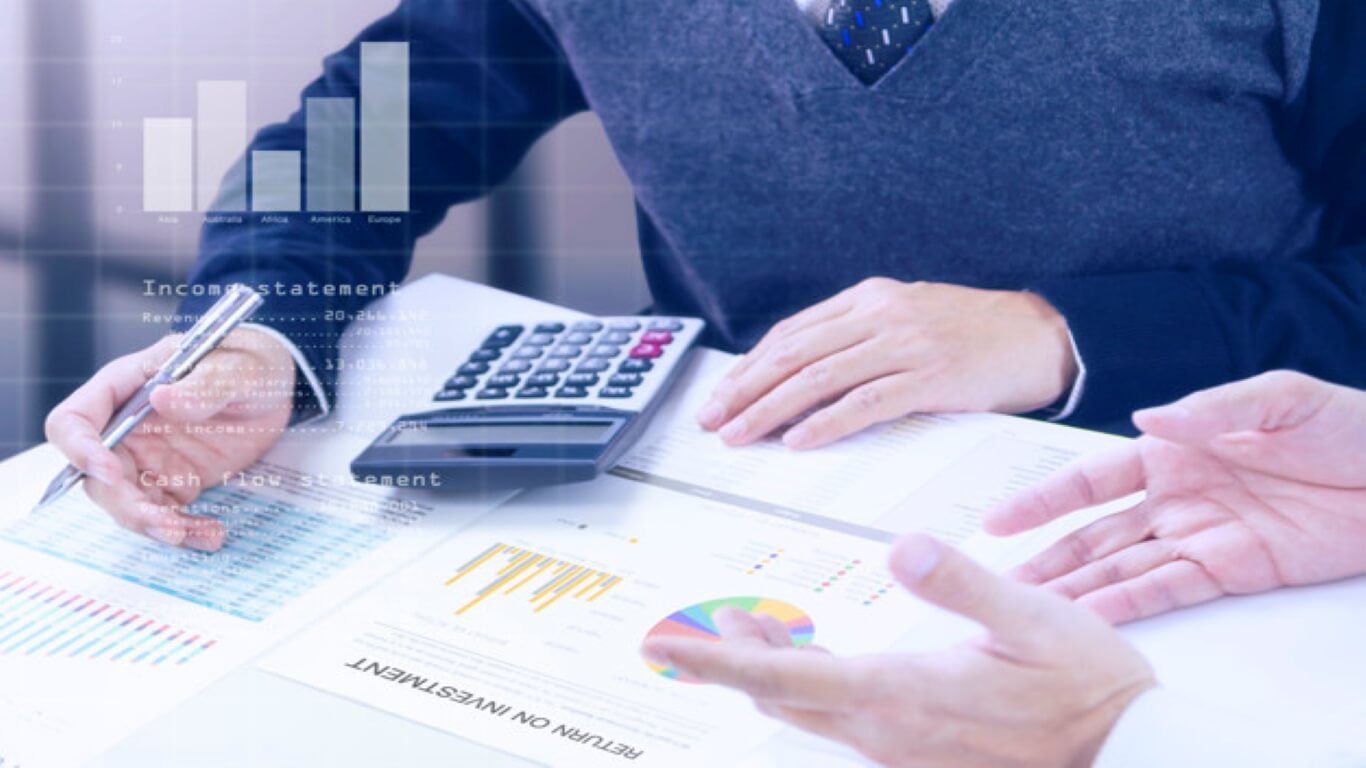 Bestseller
Equity Valuation Certification
Learn Practical Aspects of Equity Valuation

Build Valuation Models on 3 different listed companies

Live Project with FinShiksha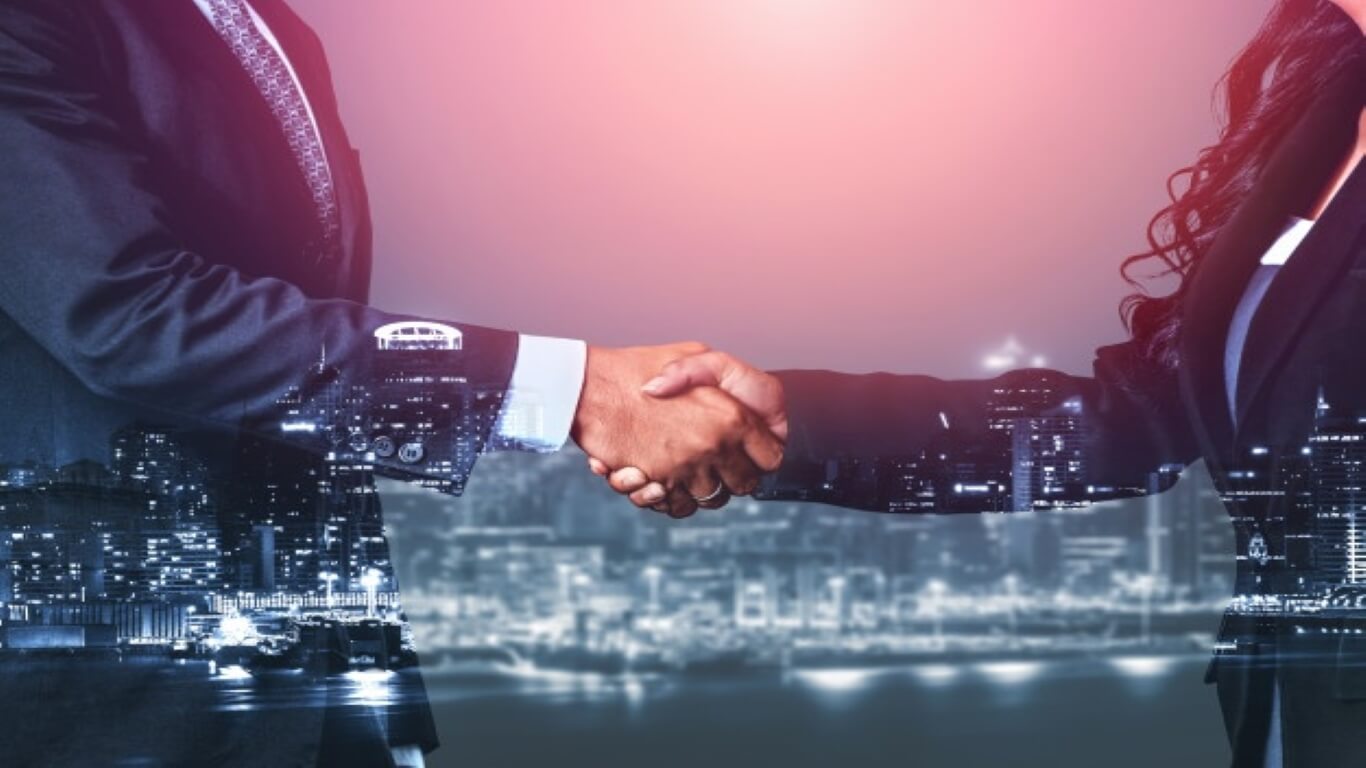 Bestseller
Investment Banking Certification
Peek into the world of IB, PE, VC

Live Project with FinShiksha

Valuation of startups, M&A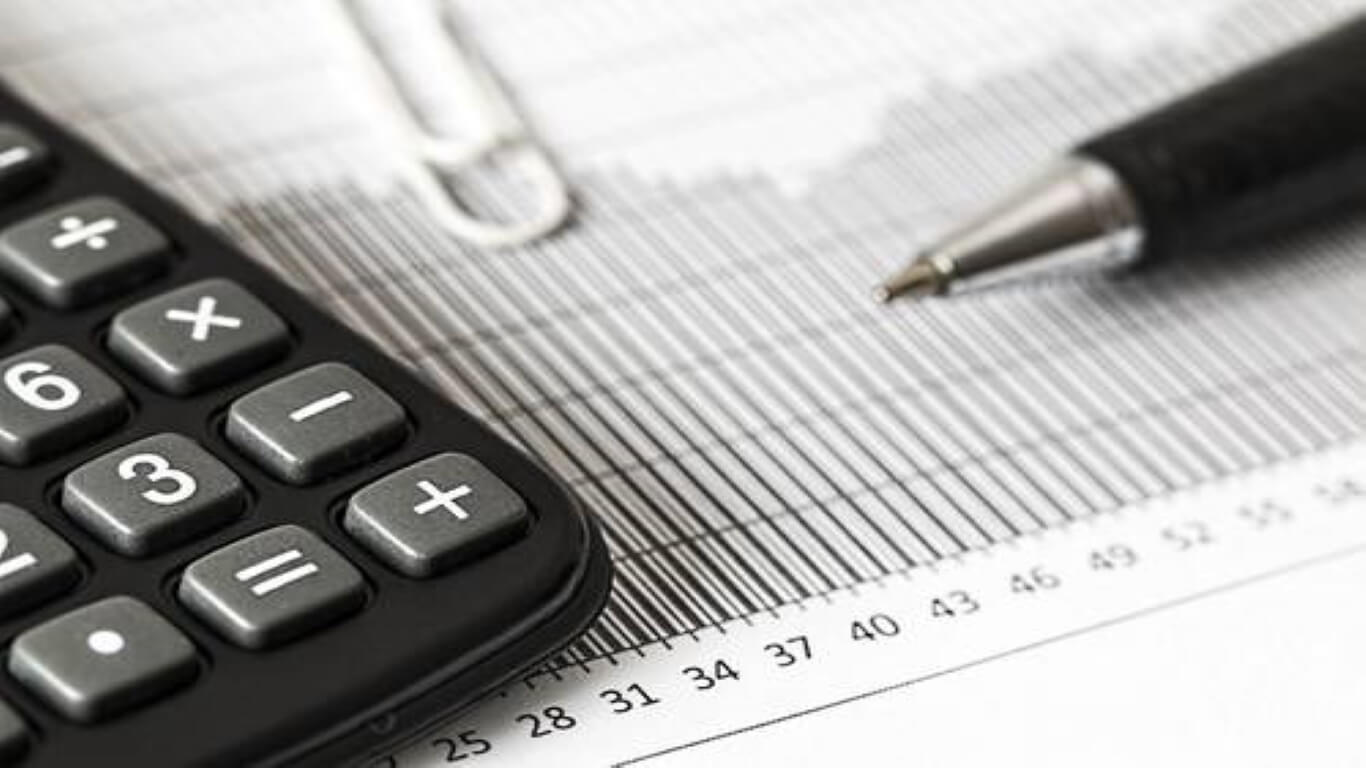 Trending
Financial Modeling Certification
Learn Advanced Excel Concepts

How and Where to use Key Functionalities in Excel

Learn Applications of Excel across Finance