Industry overview
Logistics has been one such sector that suffered the wrath of pandemic. The devastating effects on the economy crippled this sector and stuttered growth. However, the International Monetary Fund (IMF) is now optimistic that things will improve and growth will be ~9% per annum from 2020-to 2025.
India observed a total spend on logistics is ~14% of GDP during FY20. This is significantly higher than in developed countries like Germany and the US, where the total spending is ~8% of GDP.
The average logistics cost per GDP among BRICS countries was 11%. In the case of India, the cost-share per GDP was 14%. The high cost of logistics can be attributed to an inefficient modal mixture, especially with the road segment.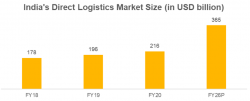 The logistics market in India consists primarily of transportation and warehousing. Transportation accounted for 70%, or US$151 billion in FY20. Organized players accounted for only ~3.5% of the logistics market (road transportation, warehousing & supply chain services only) in FY20.
Organized players are expected to grow at a CAGR of 35% between FY20 and FY26 which will improve their share to 12.5-15% by FY26.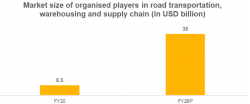 This shift is expected to be driven by the ability of organized players to offer integrated services, network, and scale-driven efficiencies and larger investments in technology and engineering, resulting in a higher share of wallet of customers.
Delhivery – Business outlook
Delhivery was established in May 2011 as SSN Logistics Ltd. and is India's market leader in e-commerce logistics with a 20% market share and strong position in the partial truckload (PTL) post-acquisition of Spoton Logistics Private Ltd.
Over the last 10 years, Delhivery has established itself as one of the key players in the B2C logistics market. With the recent acquisition of Spoton, they will also look forward to B2B participation.
Currently, 70% of revenue comes from e-commerce business. B2B e-commerce involves two kinds of businesses, one is picked up from vendors and deliver to the e-commerce warehouses and the second is pickup from e-commerce warehouses and return back to the vendor. Many top players don't enter the segment of last-mile delivery which is considered B2C.
Today, it delivers 40,000 to 50,000 orders a day and has customers such as Flipkart, Snapdeal, eBay, Amazon, Myntra, Jabong, and Healthkart, among others. The business model is asset-light where infrastructure and vehicles are leased which significantly decreases operational risk and aids in faster growth.
It provides an integrated platform of end-to-end logistics management including parcel delivery, part truckload, full truckload, and warehousing.
The business is currently loss-making and debt levels are rising. There is a dependence on external financing.
---

Festival Offer !!! Discounts on all Courses Click here

---
Delhivery – Business segments
Partial-TruckLoad (PTL) – This facilitates easy movement of goods from different customers through one truck. It is useful for multiple shippers to share their load and pay for the particular space occupied by them, making it a cost-effective method for shipping goods. The idea of this business is to utilize the strength of a company's network to allow customers to ship larger, heavier loads at very high speeds across the country.
Full-Truck-Load (FTL) – A shipment where the truck is fully loaded before delivering to the customer. The space of the truck is fully utilized and the goods stay in the truck from the time of pick-up till the time of drop. The transit time is much less than PTL and LTL.
Express Parcel – Parcel delivery services to 17,000 pin codes in India are currently executed under two categories. Consignments up to 10 kilograms and those which are considered heavy goods are dealt with separately.
Cross Border services – This includes door-to-door, port-to-port express parcel services as well as air cargo to and from India. Their capabilities include an integrated network of express and freight solutions coupled with supplementary solutions of tech-enabled tracking, an in-house regulatory team for proactive clearance support, and a dedicated customer servicing team.
Let's have a quick look at the players operating in different segments of the market.

Delhivery – Business model
Transportation and logistics businesses usually follow a hub and spoke model where a centralized hub exists. Goods are transported to smaller locations(spokes) for further processing and distribution.
The business model followed by Delhivery is that of a mesh network. They have been prioritizing it since FY14 which is demonstrated in the productivity which increased by ~50% from 25-26 shipments per day to 37 shipments per day. Mesh network is dynamic and changes based on surges in volume or hindrances in other channels.
Mesh Network emphasizes a higher proportion of point-to-point connections with dynamic shipment routes determined typically based on an automated algorithm. The Hub-Spoke Model provides less flexibility as the main node (hub) is centrally connected to multiple other nodes and this is where Delhivery gets an advantage. 
Engines of revenue growth
Balanced presence across segments – Express parcels comprise 70% of revenue. Delhivery has a 20% market share in eCommerce volumes. There are about 18.6k active customers.
PTL accounts for 10% of revenue. The business has an 8.3% market share in this segment.
Truck Load contributes 6% to total revenue started in FY20. There are 449 customers and 1,850 delivery partners.
Supply chain services add 10% to revenue with a focus on D2C e-commerce and omnichannel retail. There are about 71 warehouses and 139 active customers.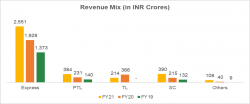 Improved distribution spread – 1.1 mm tonnes were transported during FY21 through Spoton and Delhivery. The count of customers has increased by 4x during the last 3 years. This has reduced dependence on relying on major customers.

Strategic acquisitions – Several strategic investments and acquisitions have been initiated over the last 5 years and this is expected to drive business growth. Delhivery expects to have a larger customer base and cross-border express service. Moreover, they've been focussing on automation and technological partnership to add value to enterprise customers.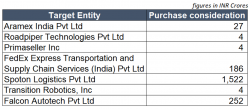 Moats and strengths
Over 80+ in-house applications to facilitate transaction flows – API is driven with an expectation of driving internal and external development.
Infrastructure and networks have been a priority. 12.23 mn sq ft and access to 17,000 pin codes boast this capability.
Operates in a dynamic mesh environment which helps in reducing touchpoints, and decision errors and makes the model more scalable and flexible.
There are multiple customer touchpoints. 64% of the revenue is generated from customers transacting for 3+ years and 55% of the revenue comes from customers using services for over 2 years.
Possibility of capital misallocation
It seems that prudent decisions relating to financing activities are not being taken which may impact Return on Invested Capital (ROIC). Total borrowings till December 2021 were INR 370.7 Crores. The company had an adequate cash balance during the last 3 years to ensure timely repayment and saved the finance cost.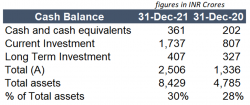 Delhivery plans to utilize INR 2,000 Crore for organic growth and INR 1,000 Crore for inorganic growth. It will be interesting to see the capital allocation as they are cash-rich and in a state to finance their investments. 
The Indian economy continues to get rewarded by the demographic dividend with India becoming the highest consumer of mobile data per month at 15.7 GB per person. This will be a boon for the e-commerce market and online shoppers will increase by 2x from 160 million in FY21 to 320 million in FY26. Moreover, the production-linked incentives of the government will boost the B2B segment with an increased direct-to-retail(D2R) and direct-to-customer(D2C) presence.
These structural changes in the consumption story require reliable logistics as an enabler and Delhivery as a key role to play.
---
---
To stay updated about all of our posts on Businesses and Finance Careers – register and create a free account on our website. You will also get access to a free Finance Bootcamp course once you register. 
Top Courses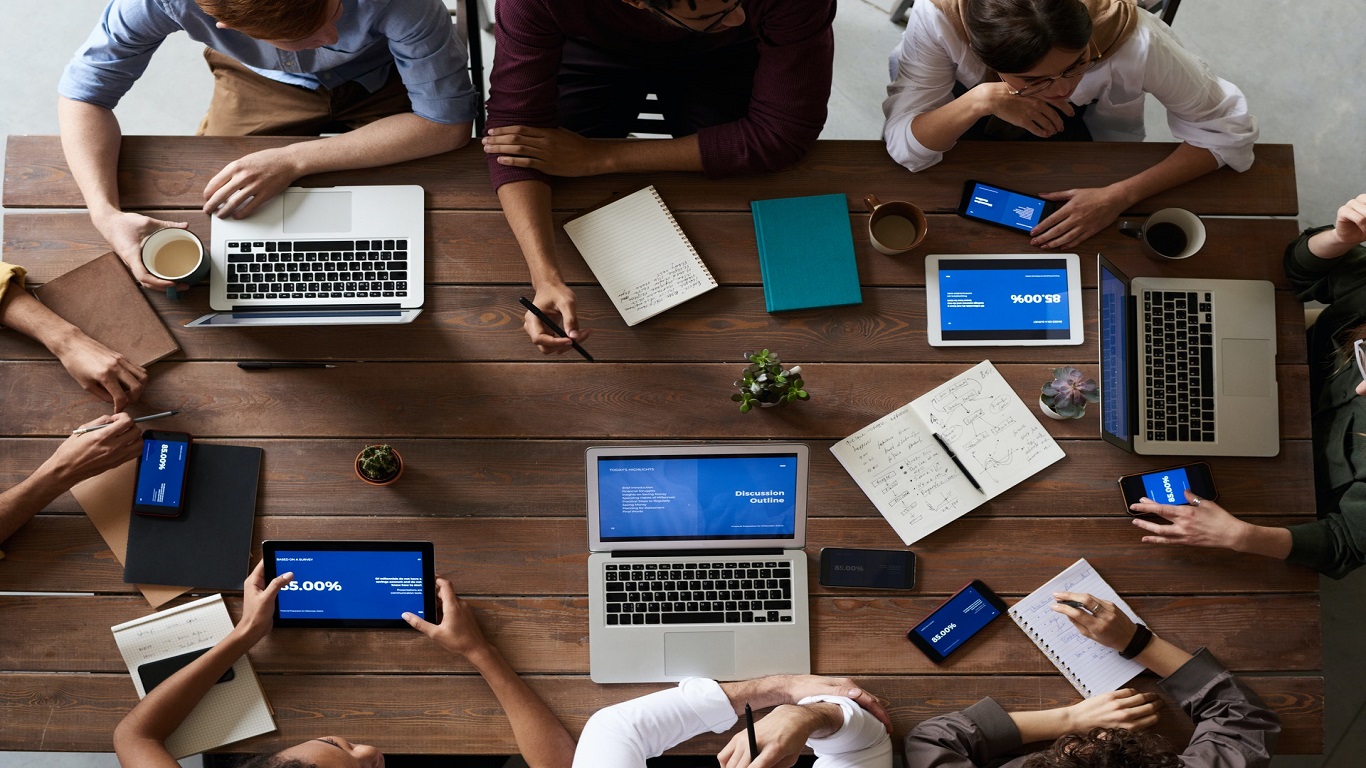 Waitlist for Next Batch
FinShiksha Analyst Program
10 weeks program with Live Sessions and continuous Mentoring

Comprehensively curated to cover Financial Analysis, Valuation and Credit

Become industry ready for various roles around Equity and Credit Research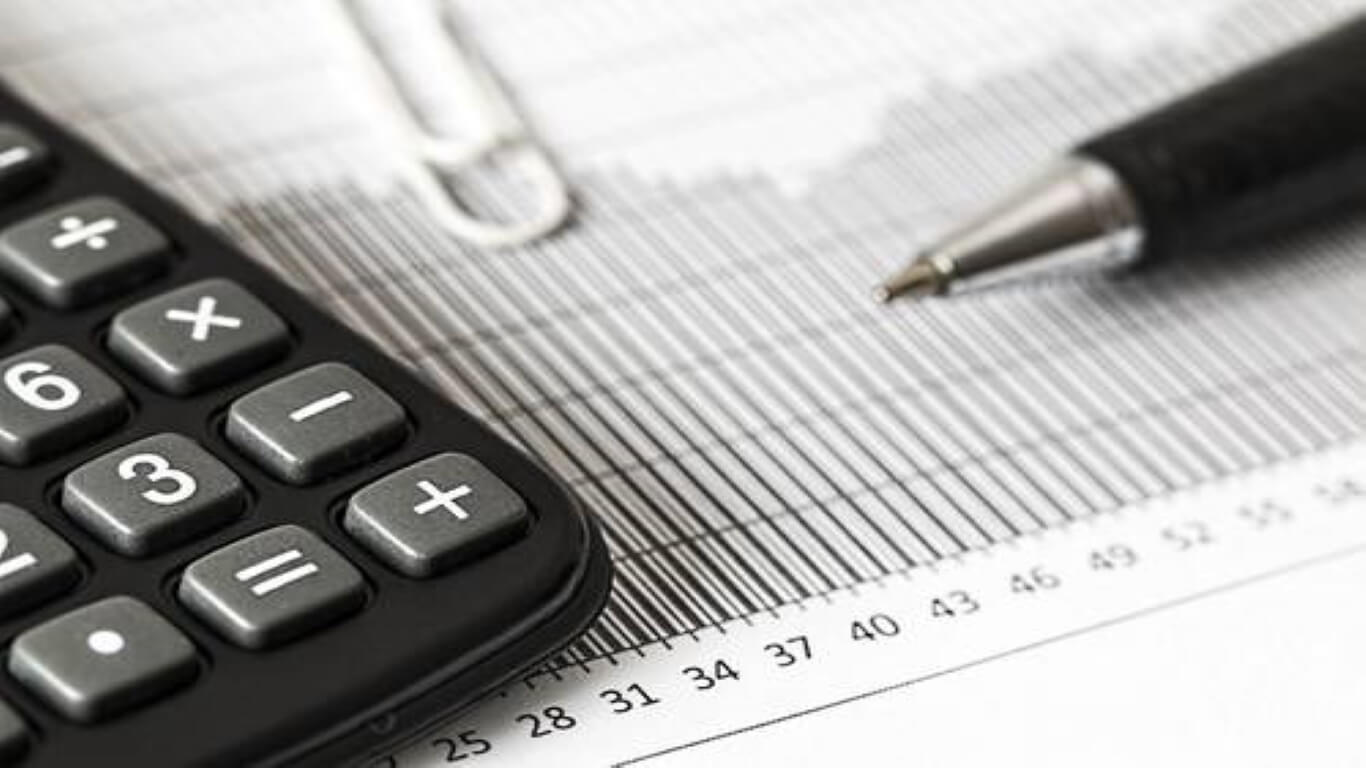 Trending
Financial Modeling Certification
Learn Advanced Excel Concepts

How and Where to use Key Functionalities in Excel

Learn Applications of Excel across Finance