If Walmart were a country, then it would be ranked 27th in the list when compared the size in terms of Revenue (or country's GDP).
Walmart generated USD 514 Billion in the year FY19. If we compare that with the GDP of counties then it is higher than the likes of Hong Kong, Singapore & New Zealand.
We are talking about a company which generates huge numbers in revenue, a pioneer of EDLP (everyday low pricing) and EDLC (everyday low cost) by being more efficient, and has so far dominated the US Offline retail market. However, the emergence of Amazon has posed a threat to that dominance. This post gives us a sense about their current position and a way forward and also on how Retail will evolve across the world.
Is Walmart only a Retail Company and operates just stores?
Interestingly, NO! Walmart expanded big time in other areas of retail plus added a lot of capabilities which enhances the retail experience. If you see the grid then it will look like below. Walmart is big in operating stores but has a reasonable presence in Financial Services (payments primarily), Advertising, Digital Entertainment, Health and Pharmacy and Logistics. And they are present across geographies (total 27 countries including the US and Canada). So, Walmart has expanded into multiple businesses which will align to Retail and complement their stores by leveraging their store presence.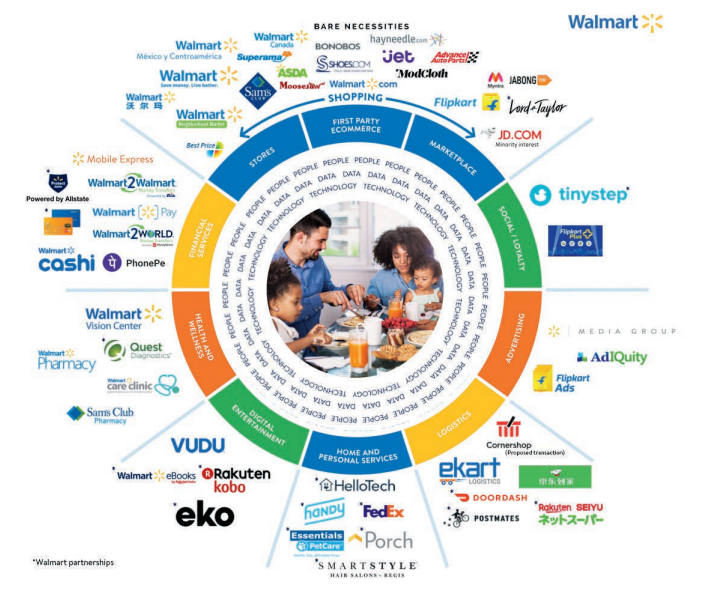 Unlike other companies, Walmart operates multiple formats – namely, Supercenter (3570 so far), Discount Stores (386 so far) and Neighbourhood Stores (813 so far) in the US. They convert discount stores to supercenters once their internal criteria of revenue and footfall are reached.
What is the difference in the formats?
First, the size differential and Second the number of SKUs served. Generally, Supercenters have a size of ~178,000 sq.ft (similar to what Costco operates, detailed article on Costco here: http://bit.ly/2P1qAZV) followed by Discount stores with an average size of 100,000 sq.ft and neighbourhood stores with the average size of 40,000 sq.ft. (similar to what DMart operates within India)
Also, they have differential store size outside the US. Just to give a perspective, the average size of a store in the US is ~150,000 sq.ft. but average size outside the US is 1/3rd of that so around 55,000 sq.ft.
Strategy for store operation
They use two strategies primarily. First, Owned and Operated – which they prefer in the US and Second, leased and operated – which they prefer outside the US (probable reason land issues, government interference, legal issues and they want to avoid all that).
Look at India particularly, compared to any other developing nation, they had the least fruitful operations in India. And Amazon was threatening to take that market away. That prompted them to make a bid for Flipkart and acquire completely and then grow in India.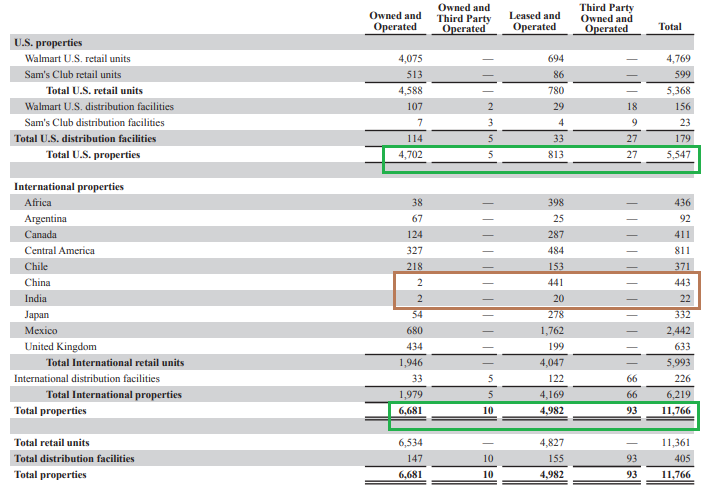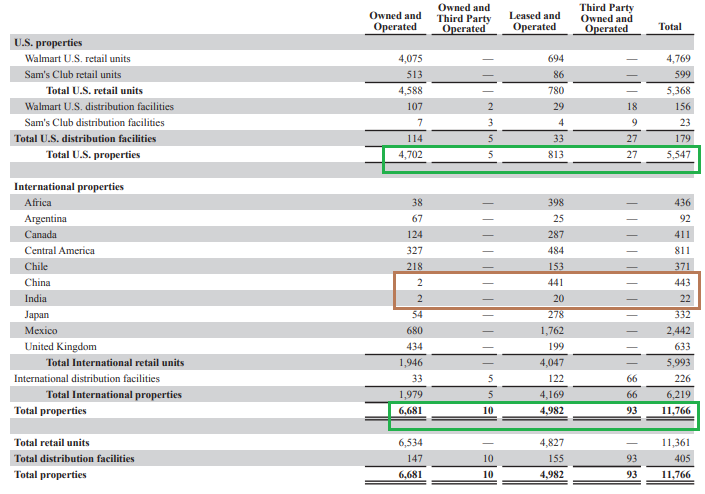 How's the business and what's the way forward?
This is now interesting and this is the pain point of Walmart currently.
When we look at revenue-related metrics and CAGR it's actually not great. Walmart US is growing because of eCommerce operations. Walmart Intl and Sam's Club is stagnant.


Now, if you see Walmart has two major segments and in each segment, they have fierce competition.
Segment One: Online vs Offline – Competition from Amazon in particular
All this while Walmart had less exposure to eCommerce. Amazon filled the gap and grown quickly. One advantage Amazon has which others do not is the AWS in the portfolio. A detailed post on that some other day.
Let's look at the numbers: on every metric Amazon looks better. Someone might argue that AWS has a major role to play – which is true to a large extent. AWS gives a lot of leeway for Retail business to capture the market. But that's how the market dynamics are.


Segment Two: Subscription-Based – Competition from Costco in particular
This is particularly for wholesale and subscription-based markets. And within Walmart, it's particularly Sam's Club which has a direct competition with Costco.
This business is dependent on how many consumers or subscribers continue their subscriptions. Both the companies have around $4 Bn generated through subscription but the revenue generated by Costco per user is 3x compared to Sam's Club. That's a definite plus for the rivals. Numbers show that clearly.


What does the Stock Market think?
For the comparison, the purpose has included DMart as well. Valuation Exercise will be covered in the Webinar along with data from Indian Markets. Link to enrol: http://bit.ly/38L4cfm


This clearly shows the impact of eCommerce on a retail company's portfolio. No wonder why Walmart is expanding its portfolio aggressively in all directions (refer 1st diagram). Only time will tell, how the competition will aggravate and in which direction this moves. Interesting times ahead.
About the Author

Have worked in the financial services industry for around 8 years now, and main areas of work have been Sector Research, Risk Management, Financial Modelling and Wealth Management.
Involved in the developoing content as a part of training in various Organizations like Kotak Securities, Motilal Oswal, Nippon Mutual Fund(erstwhile Reliance Mutual Fund), JPMC, Crisil.

Register and get regular updates of new Blogs and access to Free Courses
Top Courses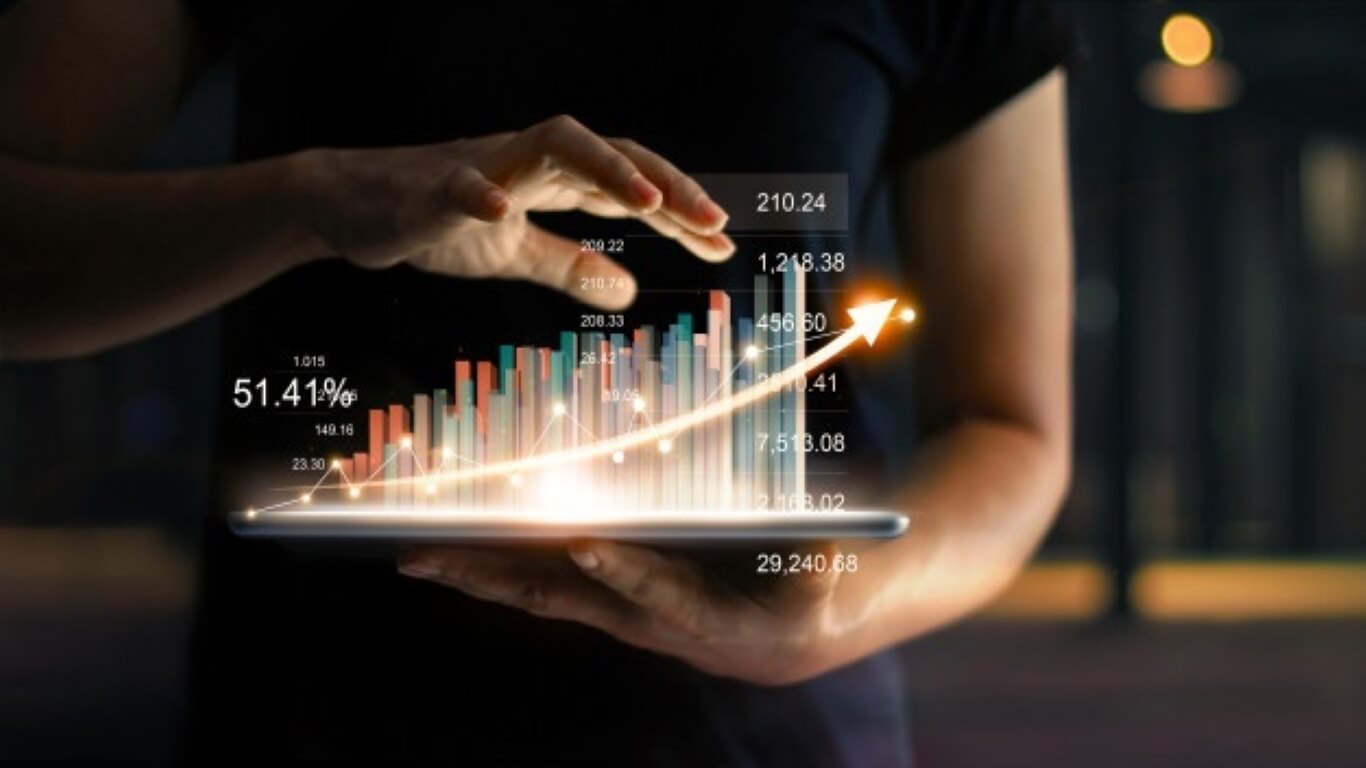 Trending
Applied Economics Certification
Understand the key macroeconomic concepts

New Recorded Video every month for 12 months to discuss latest developments in the macro environment

Case Study on Indian Macro Releases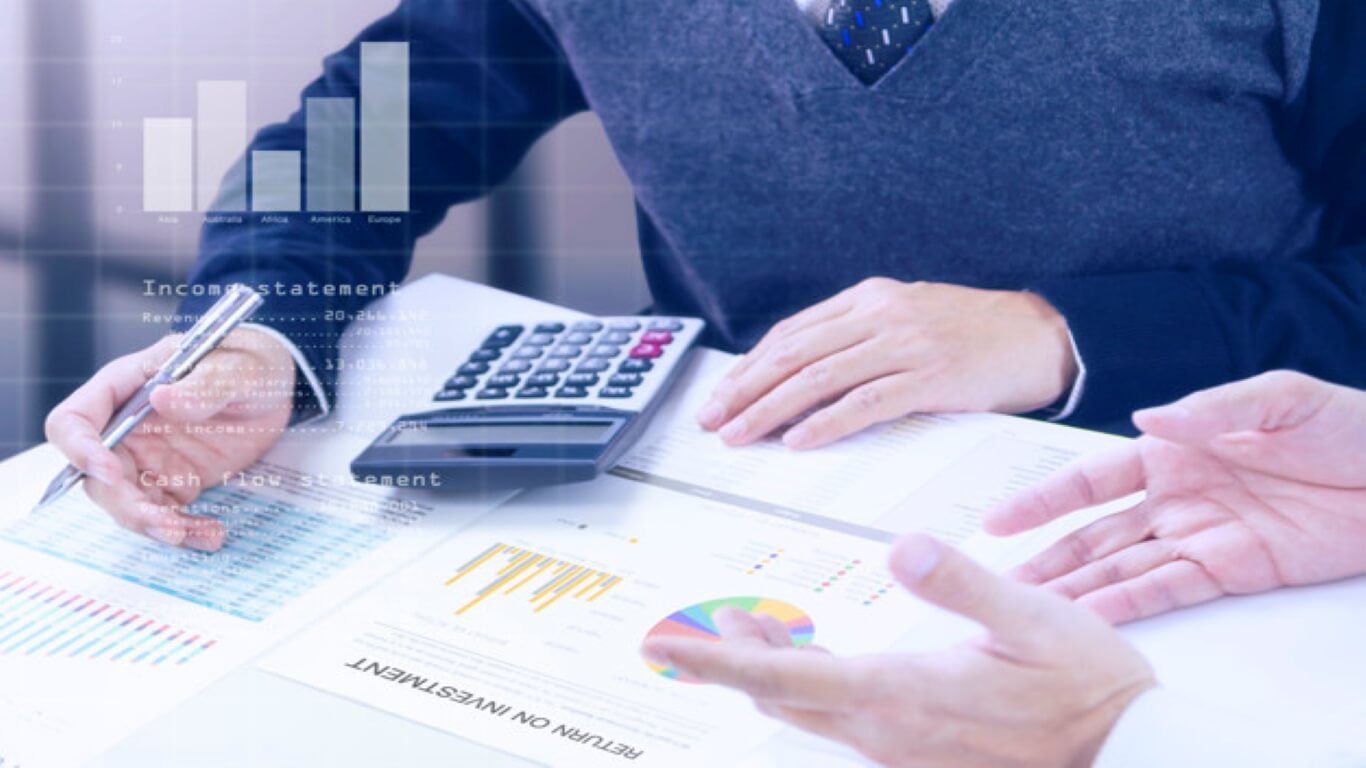 Bestseller
Equity Valuation Certification
Learn Practical Aspects of Equity Valuation

Build Valuation Models on 3 different listed companies

Live Project with FinShiksha