One sector which everyone thinks will do well is the Diagnostics business. Everyone is bullish on the theme. Listed entities have generated a cumulative return of 80% to 100% over the period of the last two years (between Feb 2020 and Feb 2022). But what will be the future? Will the trend continue? To answer these questions, we need to understand the sector first. This blog exactly explains that. In this blog, we will take an example of Thyrocare and explain some nuances. Let's jump into it.
Sector Basics
The size Diagnostic industry was valued at ₹ 710 to ₹ 730 Bn in FY21 (USD 9-10 Bn), growing at a CAGR of 14% over FY17-20.
The diagnostic industry is highly fragmented with a 46% share of standalone centres. Diagnostic chains account for 17% of this market.
The two primary categories of the diagnostic market are Pathology and Imaging/Radiology.

Pathology includes biochemistry, immunology, haematology, urine analysis, molecular diagnosis and microbiology.
Radiology involves imaging procedures like X-rays, ultrasounds, CT scans, MRIs, and PET-CT scans.
The video below sums up India's entire Diagnostics Industrydia and its different players.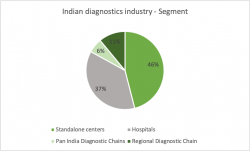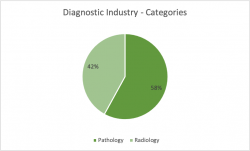 About Thyrocare
Unlike other players in the market TTL is predominately in B2B diagnostic service

.

It provides service to local hospitals, laboratories, diagnostic centres, nursing homes, clinics and doctors.
It provides tests at the cheapest cost.
Another distinct feature of TTL is that it has a limited number of tests to offer. This helps to standardize processes and remove inefficiencies in the business.
TTL follows an asset-light franchise-led model. Under this company, authorized service providers (ASP) are responsible for collecting testing samples from local hospitals, laboratories, pathologies, referring doctors, walk-in customers, and home collection services. ASP includes Thyrocare Aggregators (TAGs) and Thyrocare Service Provider (TSPs), which operate under franchise agreements with the company. These samples are then sent to central processing labs (CPL) or regional processing labs (RPL) for processing.
In FY 2021, TTL has commenced setting up Zonal Processing Laboratories (ZPLs) to operate as COVID-RTPCR testing laboratories and at the same time can able to perform certain advanced tests that are currently managed from the CPL
Other players in the market set up their own standalone labs, while TTL operates only through franchisee agreement with its ASPs thereby reducing its expenses in terms of manpower, rentals and other administrative expenses.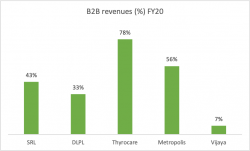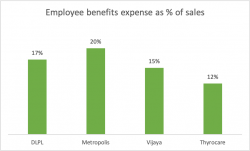 Understand the revenue streams of Thyrocare
Thyrocare Technologies Ltd receives a large portion of its earnings from pathology testing and a small proportion of earnings through imaging.
Following are certain popular brands operated by TTL:
Thyrocare – Diagnostic test (Thyroid test)
Aarogyam – Wellness and Preventive care
Nueclear Healthcare – Cancer monitoring (Full body and brain scan)
Sugar scan – Blood sugar monitoring
---

Festival Offer !!! Discounts on all Courses Click here

---
Revenue of TTL can be divided into 3 distinct segment
Diagnostic (non-covid): this includes Revenue through diagnostic tests and tests conducted under Aarogyam
Covid testing: Primarily RTPCR testing
Imaging: Primarily 18F-FDG (Fluoro Deoxy Glucose) whole-body PET CT imaging service
Apart from the above company earns a small portion of Revenue from the sale of consumables for diagnostic services, trading of glucometer and glucostrips and sale of excess radioactive bio-marker FDG required for PET-CT scanning.
TTL's turnover has increased from Rs. 183 crores in FY 15 to Rs. 495 crores in FY21 growing at a CAGR of 18%.
However, if you see Revenue increased the last y, the year was not good for business. Confused?
Last year was phenomenal too. In FY 21, turnover increased by 14% from Rs. 434 crore in FY20 to Rs. 495 crore in FY 2021. This growth was mainly driven by a 19% increase in Revenue from diagnostics. The increase in diagnostic Revenue was mainly due to an increase in COVID 19 related testing. Revenue from non-covid related testing fell by 11%. Revenue from imaging services also decreased by 40%.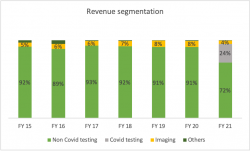 Let's understand Throcare Revenue in more detail
Diagnostic Revenue
TTL's Revenue from the non-covid diagnostic test has been growing at a CAGR of 13% from Rs. 168 in FY15 crores to Rs. 354 crores in FY21.
Thyrocare Technologies Ltd has focused on volume growth and consequently, the number of investigations conducted by the company has grown from 4.78 crores in FY15 to 11.04 crores in FY 20, however, the company has not been able to increase its Revenue per test due to severe competition in the B2B diagnostic segment.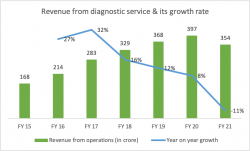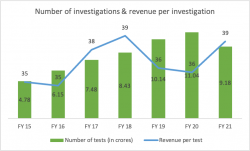 Revenue from COVID testing
TTL conducted a 10.44 lakhs COVID related test in FY21 earning Revenue of Rs. 118.3 crores. In April 2020, TTL had a capacity to do 1000 tests a day which in March 2021 was scaled up to 25,000 tests a day, making it the largest private RTPCR testing laboratory in March 2021.
Revenue from Imaging
Through NHL (Nueclear Healthcare Limited – a wholly-owned subsidiary), TTL provides early and effective cancer monitoring. Currently, the company has 10 PET-CT scanners in its 8 imaging centres.
NHL also owns and operates a medical cyclotron unit in Navi Mumbai which produces radioactive bio-marker FDG, which is required for PET-CT scanning. This backward integration provides NHL flexibility and cost-effectiveness. NHL is currently a net loss-making entity. It is profitable at the EBITDA level.
The company is continuously trying to increase its volume by charging lower prices as compared to its competitors. In 2021, NHL's Revenue suffered a major setback due to the closing down of many locations for PET-CT business due to the pandemic outbreak.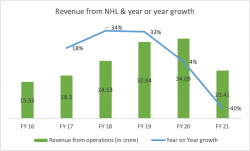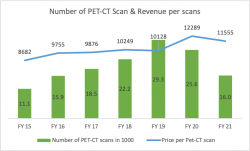 What about Cost drivers of Thyrocare?
Cost of materials consumed
The cost of material consumed includes the cost of reagents, diagnostic materials, cost of FDG, Contrasts, films and other consumables.
In FY 21 the cost of raw materials consumed increased by 40% on account of reagents and consumables required for Covid-19 testing.
TTL receives lab equipment at zero cost. It enters into a contract with equipment manufacturers to buy reagents from the company whose equipment is installed in their lab and pay a periodic rental this lowers the company's upfront CAPEX requirement for expansion.
Most of the billing of reagents is done in terms of US dollars. Hence currency fluctuation also affects the cost of raw materials.
TTL has the highest cost of material as % of sales when compared with the competitor.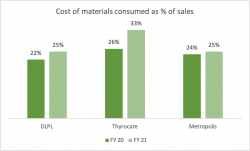 Service charge and sales & advertisement expenses
The second-largest expense for TTL is other expenses which form 18% of the Revenue in Fiscal 2021. Other expenses primarily consist of service charges and sales and advertisement expenses.
Service charges include order service charges paid to blood/ swab technicians for the collection of samples.
TTL invests significantly higher in advertisement and sales when compared with its competitors. It markets its services through franchisees, direct selling agents and online.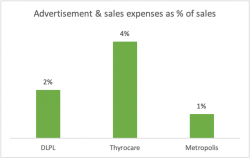 ---

Festival Offer !!! Discounts on all Courses Click here

---
And is Thryocare profitable?
Thyrocare Technologies Ltd has far superior margins in the industry due to its focus on the B2B model, which helps it to control costs. Improving asset utilization has also supported the higher margins enjoyed by the company.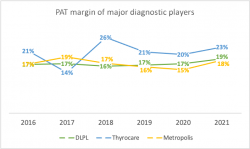 There has been a new update recently. Pharmeasy has acquired Thyrocare in 2021.
In June 2021, the parent company of Pharmeasy, API holdings purchased a 66.15% stake in Thyrocare Technologies Limited from Dr A Velumani for Rs 4,546cr. Additionally API acquired a 5.07% stake in an open offer.
So that leads to our last section and the last questions.
Will the Acquisition by PharmEasy's Parent Company improve growth prospects for Thyrocare Technologies Limited?
API holdings is India's largest digital healthcare platform. It provides services like teleconsultation, diagnostics, medicine delivery and pharmaceutical supply chain.
Following are certain benefits from this transaction
Acquisition by PharmEasy would increase the share of B2C Revenue for TTL. PharmEasy provides services to 18,500+ pin codes across 2,600+ cities and towns. TTL can leverage the wider reach of PharmEasy to increase its B2C volumes substantially.
The combined entity will have the ability to provide diagnostic and pharmacy services to 100 million in 24 hours, Pharmeasy said in a statement.
TTL plans to expand its committed franchisees from 500 to 2000 in FY22, add 10 more RPL and increase its current 2000 orders per day to 5000 orders per day in its home service segment to improve its volume and brand visibility. PharmEasy will most likely fast-track this process.
Pharmeasy can provide diagnostic services at a cheaper cost to its customers due to the low-cost structure of TTL.
TTL has a well-spread network across all states in the country with its 4,500 service providers. PharmEasy can leverage this huge network and labs supply chain for home service diagnostic demand.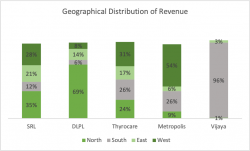 Finally,
There is no denying that there is immense growth potential in the Diagnostics business. Companies are now aggressive for growth and continuously thriving to expand their reach. How big they can become? This is yet to be seen. Watch out for this space.
Story Contributors: Saloni Munshi, Parth Parikh
---
---
To stay updated about all of our posts on Businesses and Finance Careers – register and create a free account on our website. You will also get access to a free Finance Bootcamp course once you register. 
About the Author

Saloni is an alumnus of Chetana's Institute of Management and Research. She is a Chartered Financial Analyst (CFA) level two candidate and has cleared various NISM examinations like research analyst and Investment adviser. Her areas of interest include sector research and company analysis.

Register and get regular updates of new Blogs and access to Free Courses
Top Courses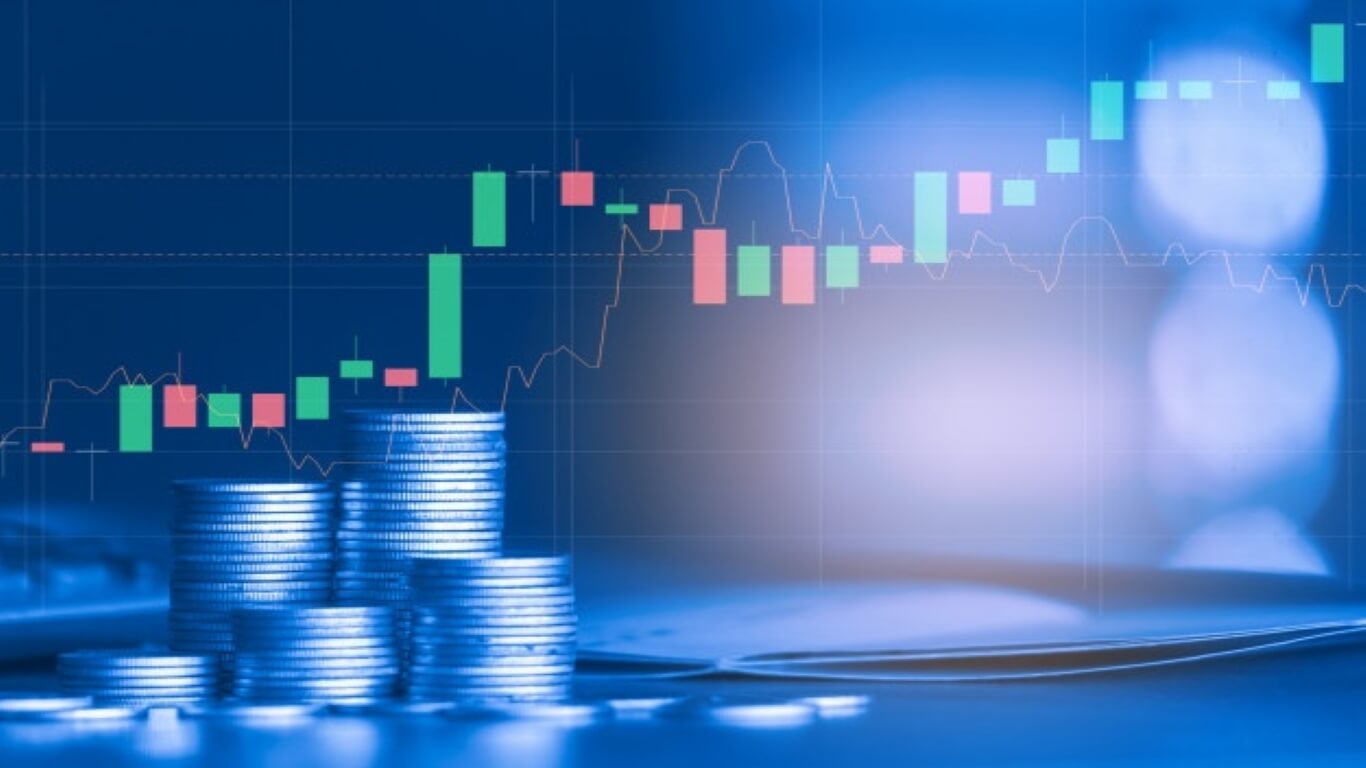 Combo
Applied Financial Statement Analysis + Finance Essentials – Banking and Markets
The most comprehensive courses on FSA and Finance Concepts

Learn the Building Blocks of Finance

Understand the Financial System and Learn to Decode Annual Reports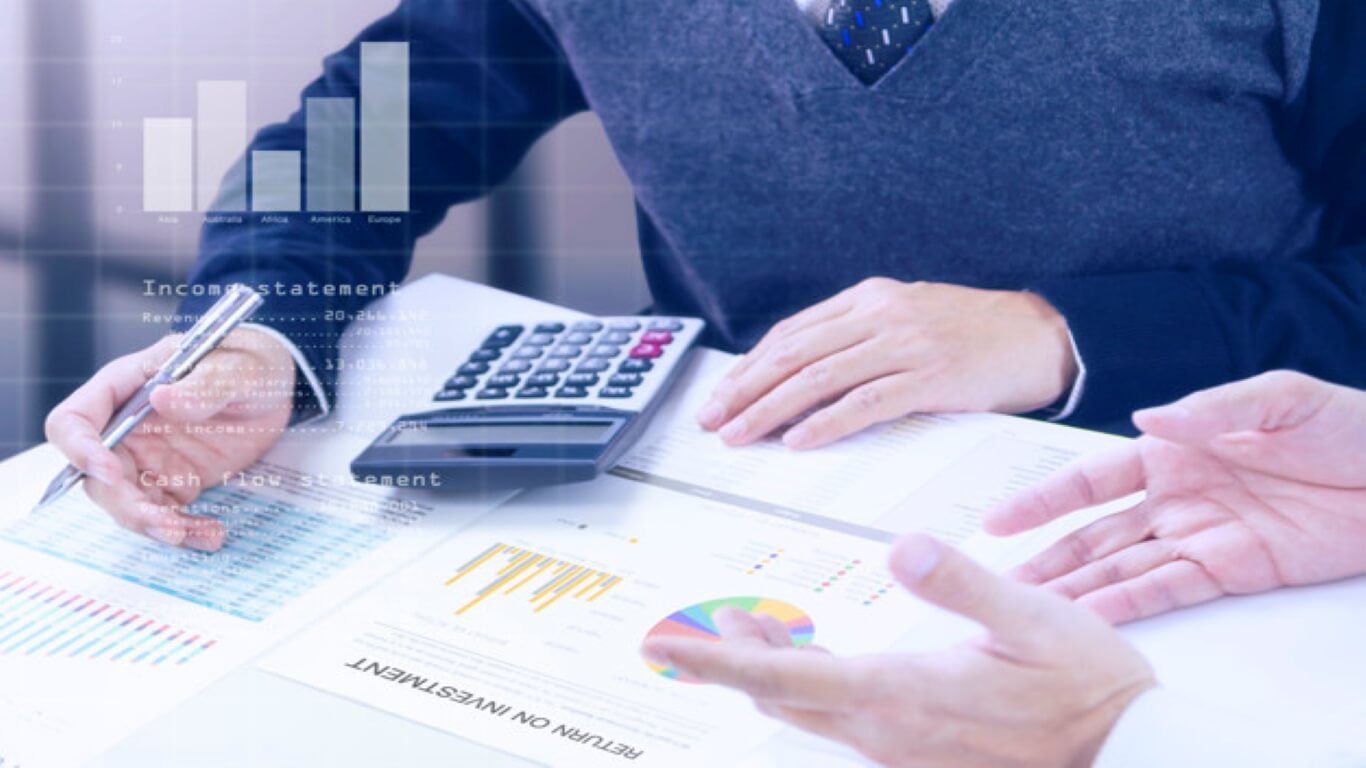 Bestseller
Equity Valuation Certification
Learn Practical Aspects of Equity Valuation

Build Valuation Models on 3 different listed companies

Live Project with FinShiksha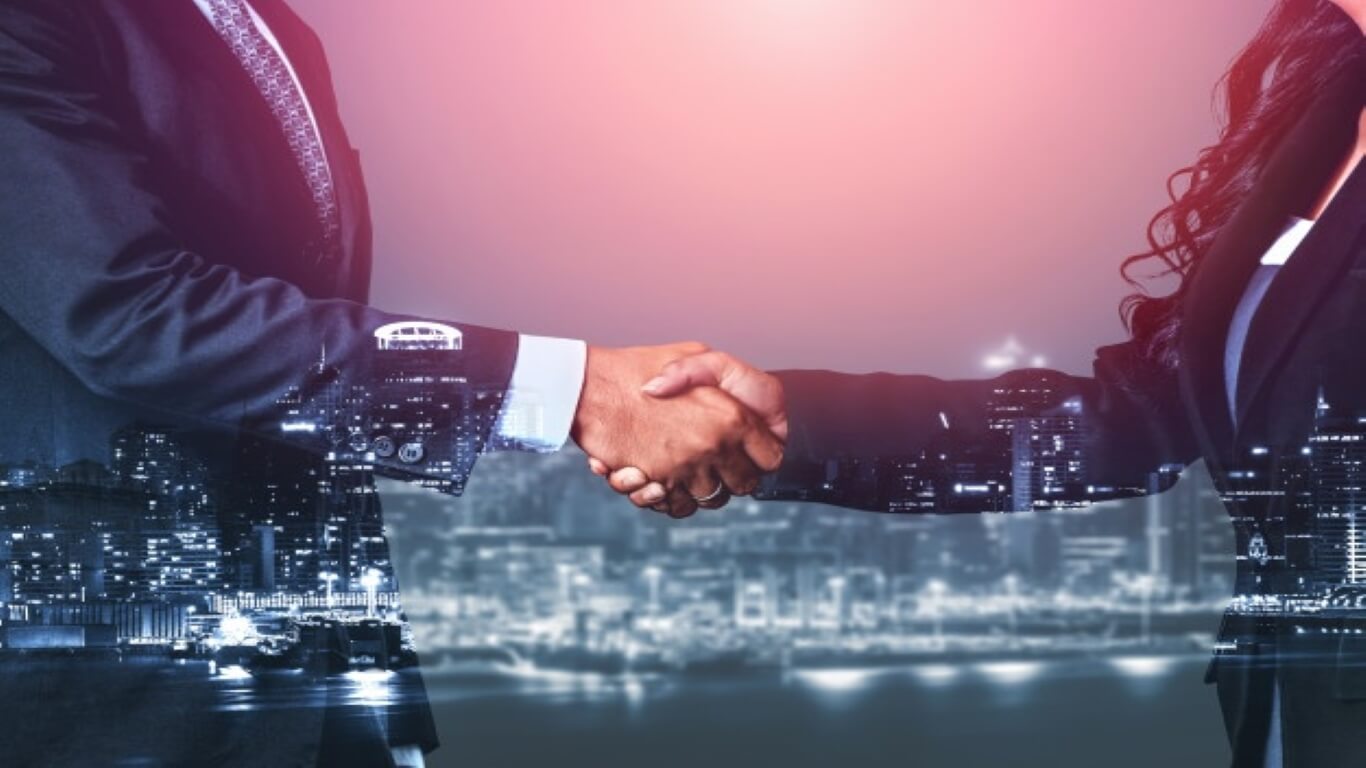 Bestseller
Investment Banking Certification
Peek into the world of IB, PE, VC

Live Project with FinShiksha

Valuation of startups, M&A