Disclaimer: The purpose of this document is purely educational in nature. The idea is to help someone kick-start their analysis of this sector/company. However, this is not to be construed as a recommendation of any sort on the company or its stock. All information has been sourced from publicly available data such as annual reports and news items and the veracity of the sources has not been independently established. Kindly use your judgement while analysing further or using this document.
From India's perspective, the auto sector and understanding dynamics are very important. It generates direct employment for close to 20 million people and total employment (direct+indirect) for close to 40 million people. Contributes approx. 8% of Indis's GDP and more than 45% of manufacturing GDP. Auto sector exports around 50 lakh vehicles every year.
Auto sales figures released by SIAM gives us an idea about the state of an economy. Hence, it can e treated as one of the most important sectors. However, latest reports suggest that there is a slowdown in the auto industry and with the series of articles we try and understand the specific nuances related to the auto industry in India.
Look at the below graph to understand why two-wheelers as an industry within the entire automobiles space is particularly important for India.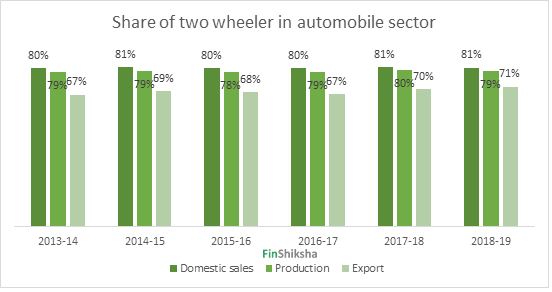 Where does India stand in terms of Market Size compared to other countries in the world?
India is the world's largest two-wheeler market, followed by China and Indonesia in terms of domestic consumption. India overtook China to become the number one two-wheeler market in the world in 2016.
The reasons for degrowth in China are:

No developed motorcycle culture like in the West, so higher capacity motorcycles didn't witness any significant sales growth.
Additionally, about 200 municipalities and cities have banned motorcycles completely from their downtown areas. Heavier bikes with larger engine sizes are officially forbidden from entering the urban area.
More importantly, declining motorcycle sales in China is also attributed to the availability of inexpensive Chinese cars.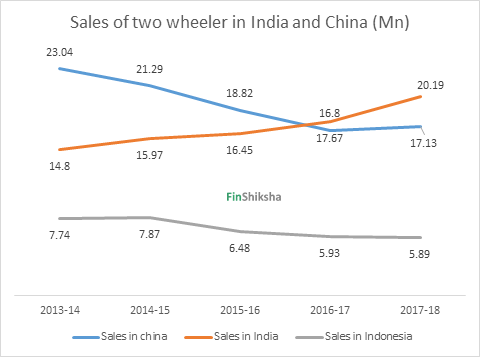 Export of Indian two-wheelers to top 4 countries contributed 47% of volumes in FY18, with Asia (Bangladesh and Sri Lanka) contributing 26%, and Nigeria and Columbia contributing the remaining 21%. Therefore, dependency on crude related economies has reduced vis-à-vis FY16.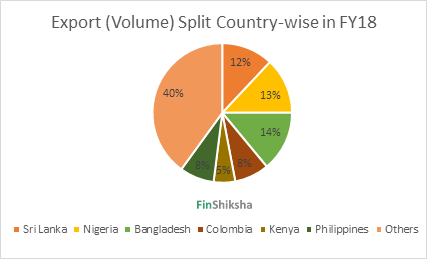 The reasons for export growth in India are:

Recovery in key markets such as Nigeria, Egypt, Africa.
It was further boosted by the entry of Indian companies into new markets in Latin America and ASEAN.
Exports of two-wheelers from China has experienced a growth of -5% CAGR from 2013 to 2017, while over the same period India has experienced a growth in two-wheeler export at 8% CAGR.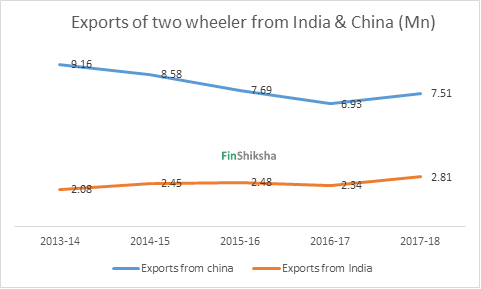 Both Thailand the world's 5th biggest producer of motorcycles and Indonesian two wheeler market is completely dominated by Japanese brands, Honda (78% in Thailand, 74% in Indonesia) and Yamaha (14% in Thailand and 22% in Indonesia). However, India and China markets are less concentrated and dominated by a domestic brand.
What are the various sub-segments in Indian two-wheeler sector?
Two-wheeler sector consists of the following segments:

Motorcycle
Scooter
Mopeds
Scooter
The scooter has been the fastest growing segment in India two-wheeler sector at 15% CAGR form 2012-2019. Consequently, the share of Scooters in the domestic two-wheeler sector has increased from 19% in 2012 to 32% in 2019 and is further.
However the year on year domestic sales of scooter fell in 2019 and possibly the fall can be contributed to increased cost of ownership of two-wheelers (mandatory insurance related regulations), absence of festive schemes by OEMs (facing high commodity price pressures), tight liquidity conditions for NBFCs (financiers)and muted demand sentiments in urban areas.
This is a highly concentrated market, top 3 players accounted for nearly 86% market share in 2018. (Honda – 57%, Hero – 13% and TVS – 16%)
Scooter segment is further divided on the basis of engine capacity as "<90 cc (TVS Pep+)", "90-125 cc (ACtive, Dio)" and "125-150 cc (Vespa, Aprilia)".
90-125 CC is the largest segment in Scooters. It accounts for nearly 97% of scooters sold in Q4 of FY2019.
The share of the scooter in the overall exports of two-wheeler has continuously increased (currently stands at 11% of total). The exports of scooters from India is predominantly to Sri Lanka forming nearly 73% of total scooters exported from India.
Motorcycle
In 2019 motorcycles reported industry-leading growth, beating the scooters segment after many years and inching up their share in the two-wheeler pie after several years of losing share to scooters.
The market for motorcycle is concentrated, the top 3 players accounted for 83% of the motorcycle market in 2018. (Hero – 52%, Bajaj – 16%, Honda – 15%)
Motorcycle segment extremely critical in terms of two-wheelers ecosystem. Below graph just depicts that.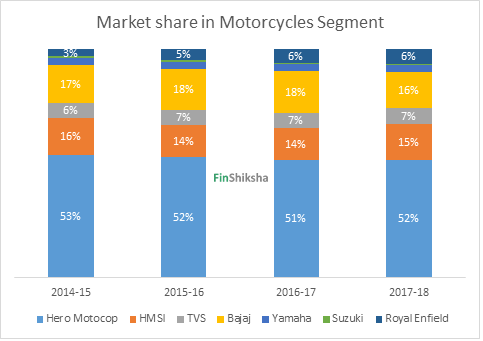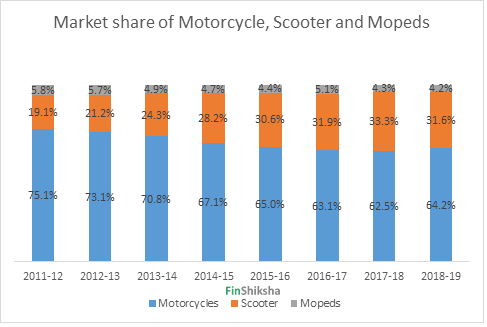 Mopeds
Mopeds are a two-wheeled vehicle with an engine of less than 50cc capacity. Mopeds, registered tremendous growth during the 2016-17 fiscal, on the launch of XL100, a four-stroke superior vehicle at a marginal price hike. This helped the moped segment clocked a strong growth on-year. Barring that mopeds segment don't grow too much.
TVS is the only manufacturer of mopeds, Bajaj, hero and other small makers exited this segment.
Tamil Nadu and Andhra Pradesh are the two states accounting for the lion's share of the overall moped market in India.
From companies perspective how is the market? Who are the major players in the Indian two-wheeler sector?
The major players in the Indian two-wheeler sector accounting for 93% of domestic market share are
Hero Motocorp Limited (HMCL)
Bajaj Auto Limited (BAL)
TVS motor company limited
Eicher motors limited
Honda Motorcycle and Scooter India Private. Ltd (HMSI)

* For Hero MotoCorp Bangladesh is not captured due to local plant
Is there a dominant model which sells?
Top two-wheeler models sold in India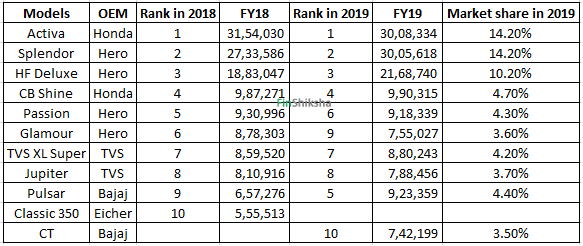 In 2019 apart from Activa, the only scooter in the list was Jupiter, rest eight were motorcycles.
Pulsar's rank jumped from 9th in 2018 to 5th in 2019.  This is primarily because of relaunch and advertising.
CT re-entered the list. CT gained on account of discounting along with free five-year warranty and five-year insurance.
Cult bike maker Royal Enfield's Classic 350, which has secured the tenth spot in FY18, could not make it to the list in FY19. This may be because of other manufacturers are joining the league and the competition in 350 CC segment will increase as M&M is launching Java Motorcycles another cult bike.
Top 10 two-wheeler models accounted for 67% of the total two-wheeler sales in India.
Additional Data Points:
Top Scooter models sold in India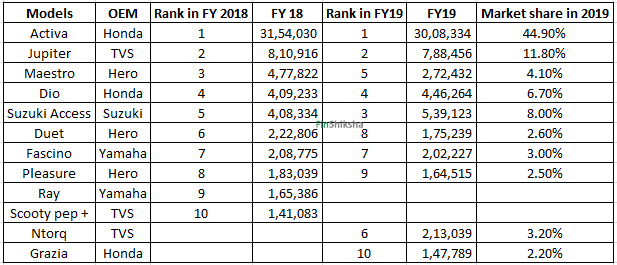 Nearly every second scooter sold in India is a Honda Activa. That's remarkable!!!
TVS Motor Co's second largest selling product is its 110cc Jupiter. The model has singlehandedly driven scooter volumes for the company to achieve the feat of one-million unit sales in a fiscal for the first time ever in FY2018.
The big gainer in fiscal 2019 has been the 125cc Suzuki Access. It posted a handsome year-on-year increase of 32%.
More and more 125 cc scooter has entered in top 10 best-selling scooter's list in 2019:

TVS NTorq, which was launched in February 2018, has seen its first full fiscal year of sales in 2018. NTorq the second best-selling 125cc scooter in the country.
The Honda Grazia is the third 125cc scooter in this Top 10 list. Launched on November 7, 2017.

Top 10 scooter models accounted for 89% of the total scooter sold in India. Heavy concentration here.
Top motorcycle models sold in India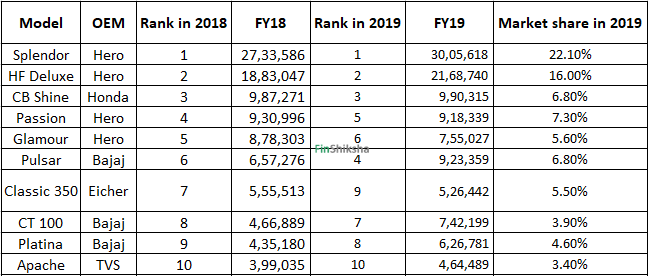 The dominance of Hero Motors is clearly visible. 4 out of the top 5 models are from Hero.
One of the main highlights over here is: Pulsar range comprises of 12 models. Pulsar achieved a handsome 41% year on year growth in 2019 thus improving its position from 6th spot to 4th. It has models ranging from 149cc to 199.5cc which has pulled customers from the 125cc motorcycle segment.
Top 10 motorcycle models accounted for 82% of the total motorcycles sold in India.
Top two-wheeler models exported: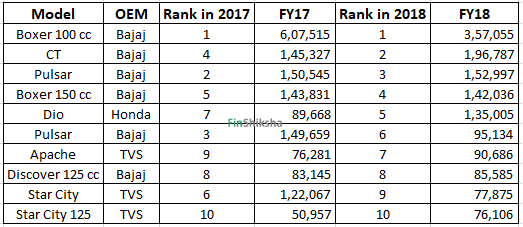 Out of the top 10 models exported from India in 2017, six models belong to Bajaj. It has a solid command over exports at present.
In the next article, we will evaluate the impact related to externalities, Bharat Stage New Version Implementation, Working Capital Management within companies and major cost analysis which goes into manufacturing two-wheelers.
About the Author

Have worked in the financial services industry for around 8 years now, and main areas of work have been Sector Research, Risk Management, Financial Modelling and Wealth Management.
Involved in the developoing content as a part of training in various Organizations like Kotak Securities, Motilal Oswal, Nippon Mutual Fund(erstwhile Reliance Mutual Fund), JPMC, Crisil.

Register and get regular updates of new Blogs and access to Free Courses
Top Courses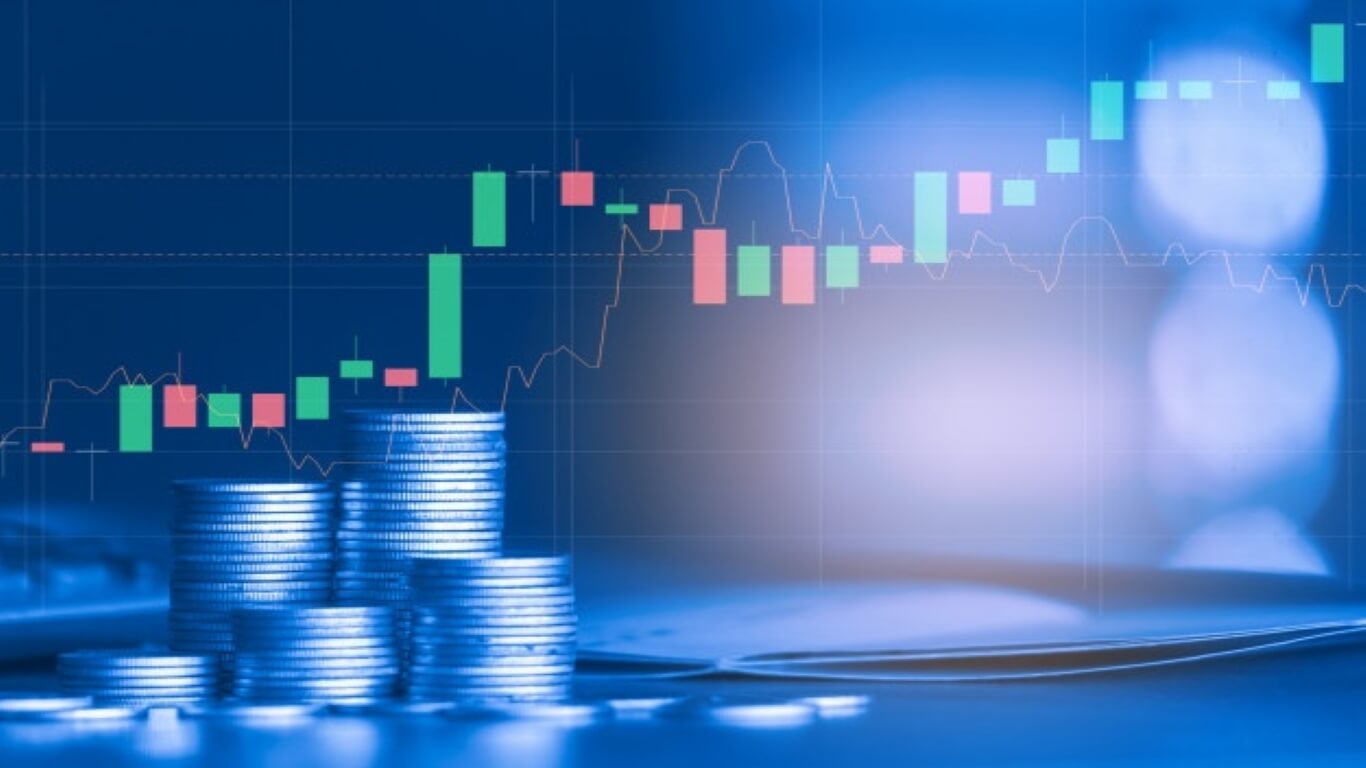 Combo
Applied Financial Statement Analysis + Finance Essentials – Banking and Markets
The most comprehensive courses on FSA and Finance Concepts

Learn the Building Blocks of Finance

Understand the Financial System and Learn to Decode Annual Reports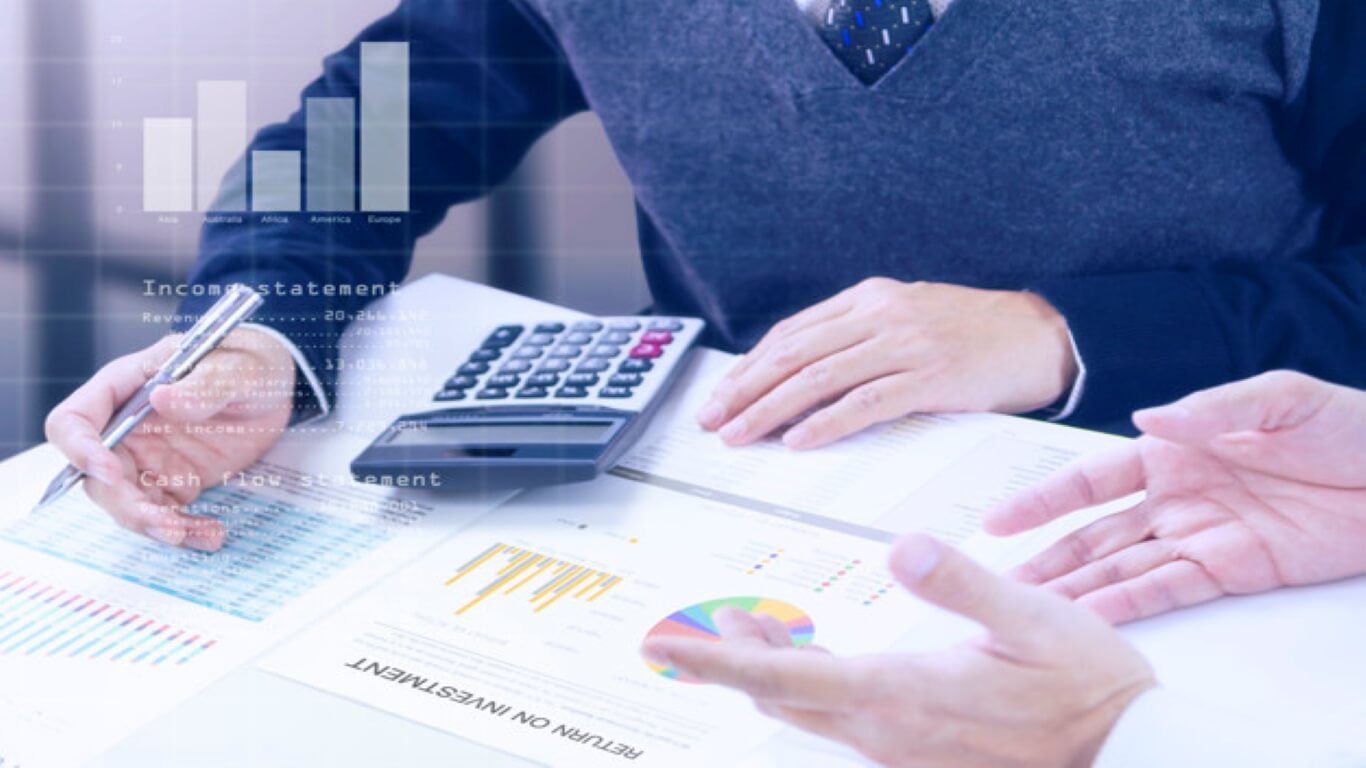 Bestseller
Equity Valuation Certification
Learn Practical Aspects of Equity Valuation

Build Valuation Models on 3 different listed companies

Live Project with FinShiksha