The divergence in PSU vs Private Bank Valuations
Posted by

Date

March 17, 2018

Comments

1 comment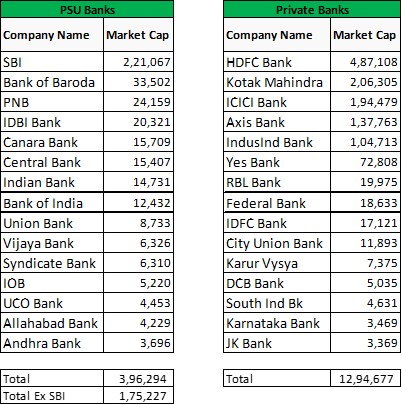 The market capitalization of the top 15 PSU banks as on March 16 2018, is nearly 30% of that of the top 15 private banks. Ex-SBI – the next 14 PSU banks  trade at a market cap of Rs 1.75 lakh crore, which is lesser than ICICI Bank & Kotak Bank, and about 40% of the market cap of HDFC Bank.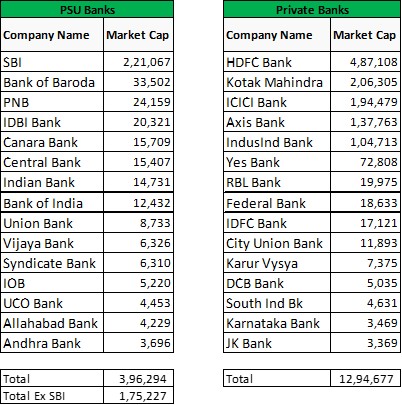 This is not to say that they deserve higher valuations, but this divergence just seems too odd unless we believe that
all PSU Banks are mismanaged, and will continue to see frauds
all Private banks are very well managed and will never see any kind of fraud
there will be no resolution of the NPA mess of PSU Banks
Some more interesting data points
Asset size of PNB at Rs 7 lakh crores is nearly the same as ICICI Bank, and about 20% lesser than HDFC Bank. Ofcourse their Return on Assets is abysmal, at 0.2% vs 1.3-1.7% for ICICI & HDFC Bank, but i would like to believe that is already in the price (Though i could be wrong)
Bandhan Bank is valued at Rs 44000 crore at its IPO price. This is more than any other PSU bank in the country – except SBI.
Disclaimer – This is not a recommendation to buy PSU Banks. It also does not mean that you cannot see lower prices in PSU Banks. Also, the divergence between PSU and Private bank valuation could also get reduced by reduction in valuation of private banks. I do think however that the markets paint all PSU banks with the same brush, and tend to overdo their reaction for PSU banks on both sides (like what they did after the recapitalization, and what they are doing now). I also think this wide a divergence in Valuations of PSU and private banks is not sustainable over a slightly longer period – say 2-3 years.
Further Content: If you are interested and have missed earlier, you could look at our video on "Valuing Indian Banks"