Last week was one with hectic developments in global markets.
First up, US reported inflation at 7.5%, higher than expectations, and highest in 40 years. This caused a panic in bond markets, with Bond Yields spiking in anticipation of rate hikes. The Chicago Mercantile Exchange has a probability tracker for the Fed Fund Target Rate Movement, and this indicator as of the time of writing this is pricing in a 94% probability of 50 basis points of rate hike (0.5%) from the current levels, by March 16th 2022. For comparison, this probability was 33% last week, 3% one month back!
This resulted in the 2 year US Government bond yield spiking nearly 25 basis points on Thursday. This is the biggest rise in the 2 year bond yield in nearly 13 years! Simply put, this bond lost nearly 25% of its annual return in 1 day!
This is one of the more fascinating charts you will see. The 2 year US bond yield, which was 0.1% in Jan 2021, is now at 1.5%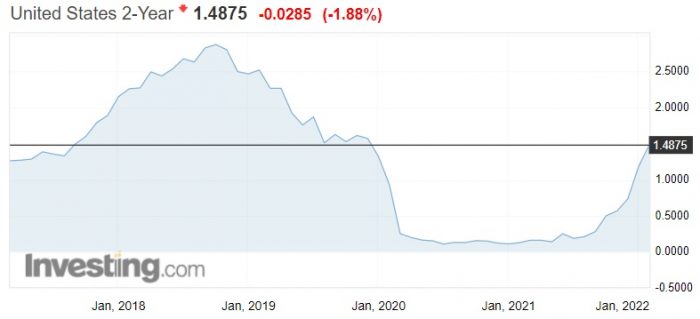 Moreover, now the Bond markets are pricing in a 55% probability of 6 rate hikes this calendar year.
To add to this, there was the news of Russia and Ukraine tensions escalating. This further caused a spike in energy markets, with Crude prices topping USD 95/barrel. Crude Prices are above USD 90 for the first time since 2014! This has further implications for the inflation fears worldwide.
All this, along with global monetary tightening, has kept the stock markets on tenterhooks. Let's hope the next week brings some sanity on the geopolitical front globally. In the absence of that, financial markets could see heightened volatility.
What are your thoughts on the financial markets? What do you think Indian Equity markets returns will be in 2022. You can share your thoughts by just replying to this email.
Did You Know
40% of the natural gas supplies to Europe are from Russia. Germany had more than 60% of its natural gas supplies coming from Russia in 2020.
Recent YouTube Videos
A short video about Operating Margins comparison of Airtel and DMart: You can view this here
Recent LinkedIn Posts
Geographical Split of IT Company Revenues: You can view it here
Recent Blog Posts
India's demographic Profile – and what can be done to achieve its fullest potential – Read it here
That's it from us this week. Till next week – Take care!