Who will drive Nifty?
We know that Nifty is a free-float market cap weighted index. What does that mean? Free float market cap is the market cap after removing the promoter shareholding. Based on that, we weigh the stocks, and come up with the weightages. Which is why, something like TCS, even with the second largest market cap, gets the 6th rank in the Nifty Weights.
Let's look at the Nifty weights at the end of March 2022.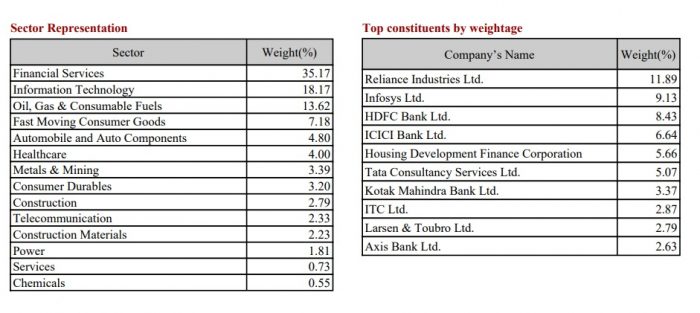 Financial Services and IT form nearly 55% of the index. Reliance, HDFC Bank and HDFC (Now to be combined), Infosys, TCS combined have about 38% weight in the index. Now we know that the results of IT companies points to a stress on account of Attrition and rising costs. HDFC Bank on the other hand is a victim of its own superlative performance in the past. The market expects growth to continue, but as other banks get their act together, and HDFC grapples with its own size, the valuation gap between them and others is reducing.
What next?
Which brings us to the question – where does Nifty go from here? It is entirely possible that markets remain sideways for the near term, given that heavyweights are under pressure. But what about other stocks and sectors? Can anyone else take leadership?
Consider this
SBI has a weight of 2.5% in the index, with profits in the last few quarters almost the same as HDFC Bank.
L&T, India's largest Infra firm, has a weight of 2.5%.
The entire pharma sector has 4% weight in the index.
Metals and Mining has 3.4% weight.
Some of these segments, in core manufacturing and basic industries have to take the lead if Indian economy has to grow. For too far, the growth has been carried by IT Services, Private Banks and FMCG. Other sectors will most likely take the lead now. It is also imperative for this to happen, if the economic growth has to be sustainable. Which one's do you think will be the drivers of Nifty?
Recent YouTube Videos
Working Capital – Negative or Positive – This is one of the most common questions in finance interviews – View it here
The GDP Equation Decoded – What is needed for 10% GDP growth – View it here
LinkedIn Posts
Data Price Deflation in India – View it here 
Footwear Industry – Can India lead the way – View it here
Till next week! Keep learning, and keep shining!