Steel is a very tricky business. The revenues are dependent on what global steel prices are, and the inputs costs are mostly not in your control. On top of that, if you saddle yourself with large amounts of debt, and the business cycle does not turn, it can create massive challenges for companies. Ask Bhushan Steel, or Essar Steel.
Tata Steel till 2007 was one of the most profitable steel operations worldwide. They had EBITDA margins of 40%, unheard of in the steel sector, globally. Then they decided to go and acquire Corus in a Leveraged Buyout, and things went south from there. The 2008 crisis happened, global growth slowed down, and Tata Steel lost nearly a decade of growth. As a result, by FY2020, they were sitting with a gross consolidated debt of nearly 1.2 lakh crore.
Then Covid happened, and the stock fell. To a point where the market capitalization of this firm was just about Rs 30,000 crore.
But as they say, what sometimes people perceive to be a negative, works as one of the best positives. Slow global growth meant very little steel capacity addition, and the pandemic resulted in Supply Chains being broken. Add to that China trying to slow down its industrial growth, and we suddenly had a scenario where steel prices skyrocketed. Now commodities are businesses with very high operating leverage – top line growth flows directly to bottomline, since costs are largely fixed (Especially for someone like Tata Steel, where inputs like iron ore are captively sourced).
So much so, that the consolidated EBITDA for the last 4 quarters is more than 60K crore! Imagine that the company was available at a market cap of 30K crore 2 years back. Who would have believed if somebody told this in 2020?
What followed was massive debt reduction. The company has now Net Debt levels of Rs 60K crore, and if the steel cycle continues the way it is for another year, practically that is the kind of EBITDA they will generate over the next 12 months.
Plus – survival issues are behind us now. The company is planning to double their capacity in India over this decade – and this has always been a more profitable business for them.
This is the Tata Steel of old. If the steel cycle remains strong for another few years, this phase could be an orbit shift for the company. It would be really interesting to see an old economy company do well in the times of tech companies breaking new ground worldwide.
Disclaimer: Not a recommendation to buy/sell the stock.
Did you Know
SAIL and JSW steel have nearly the same capacity in India. Yet SAIL employs nearly 4 times the number of employees (Permanent + Contractual = 1.2 lakh employees) as compared to JSW Steel. Infact, SAIL employee more than 1.5 lakh employees 20 years ago in 2000, when the production levels were half of what they produce today!!
Question for You (And a chance to win an Amazon voucher worth Rs 500 for 2 lucky winners, out of the first 20 correct responses)
Beardo, the men's grooming brand, was acquired by which FMCG company?
Just reply to this email with your answers, and 2 out of the first 20 correct answers stand a chance to win Rs 500 Amazon gift vouchers.
YouTube Video
This week – we posted a short video analyzing the FY21 Annual Report of Infosys. You can view it here
Infographic of the week
Mutual Fund AUM as a % of GDP – worldwide. Long way to go for India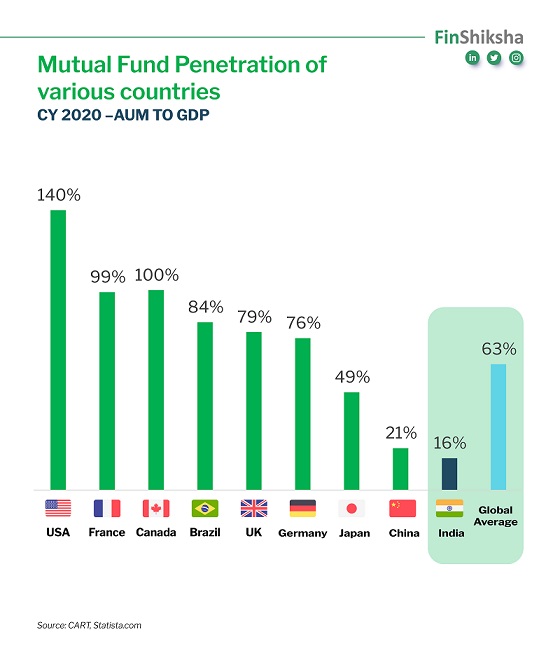 Till next week.  More than 6000 subscribers receive this newsletter every week. If you liked the post, do share it with your friends. They can subscribe for it here – https://finshiksha.com/newsletter/