PVR Inox Merger – Hiding more than what it tells
So PVR and Inox decided to merge over the last weekend. This creates the largest Indian cinema exhibition entity, with nearly 1500 screens. This is more than 15% of India's total screens, and around half of India's multiplex screens.
The benefits – better deals with distributors and malls. Remember, when a movie is screened, the distributor gets a % of the box of collection. If you are a large multiplex chain, the bargaining power may increase against these suppliers. The other key stakeholder for the Multiplex industry are Malls. If there are 2-3 large players, the malls have higher bargaining power. But if there is only 1 large player, the mall has little bargaining power.
Is it all rosy?
But think about it, does the merger hide some underlying issues with the industry? The combined revenue of PVR and INOX has grown by nearly 18% over 2015-2020, while the CAGR in number of screens is 12%. Thus revenue growth per screen has grown only at a CAGR of 5-6%. It tells us something – this is an industry that shows higher growth by adding screens.
But how many screens can be added? For all the news we read about under penetration of the screens in India, the total number of screens in India has declined over the past decade. If the industry was so underpenetrated, why are overall number of screens going down? We can argue that multiplexes are replacing single screens, but it does tell us that there is some inherent issue with the business model.
Once the screen addition stops, the revenue growth slows. Would you pay a premium valuation for the industry in that case? Interestingly, the revenue per screen for PVR is the same as that of AMC Entertainment in US – nealry Rs 4 crore per screen. That puts a limit to how much the ticket prices can go up by.
What needs to be thought is if the industry was really growing, and the consumer spending will drive this growth for the next many years, why are the top 2 players merging rather than growing on their own? Was this a merger with a vision, or did the OTT and content revolution around us force this merger?
Only time will tell if this is a new beginning or beginning of the end?
The Titan of Consumer Delight
One unique thing about Titan is that the company picks an unorganized segment, and then proceeds to become the largest organized player in that segment. Pick any segment they are in – Jewellery, Watches, Eyewear, and now Sarees, we will see fragmented markets. Each region will have some dominant local players. Titan has managed to become a large pan Indian player in these segments. Coupled with strong execution and customer delight, Titan has managed to create brands in all these segments. Revenue CAGR over the past 10 years has been close to 12%, while profit CAGR has been 15%. See below the key brands that Titan has created across the customer segments. What other segments do you think Titan can enter now in?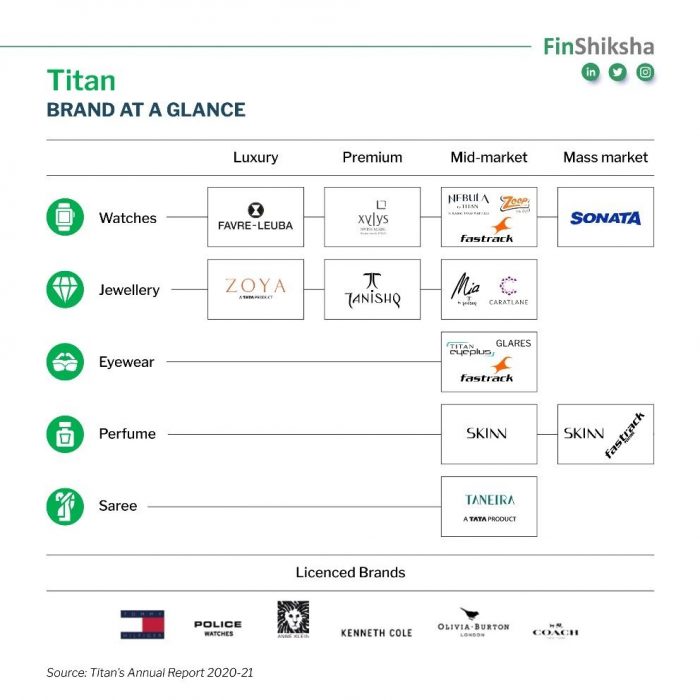 Recent YouTube Videos
FinShiksha – Is the Yield Curve Predicting a Recession – Yield Curves Explained
Monetary Policy Tools: CRR, Repo, Quantitative Easing Explained
Recent Blog Post
Electric Vehicles vs Conventional Vehicles : Is it cannibalization or new opportunity – Read it here
If you have absolutely any suggestions about the newsletter, please reply to this email. If you liked it, forward it to your friends. Till next week!