We ran a short poll a few days back, asking which of the following companies have the highest market capitalization, and these were the results.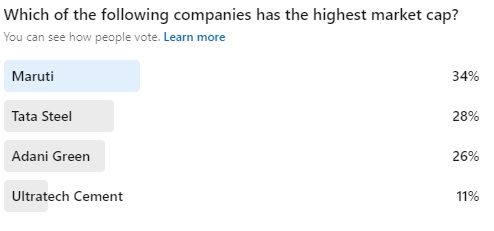 Maruti :34%
Tata Steel: 28%
Adani Green: 26%
Ultratech Cement: 11%
Interestingly, Adani green is the largest by Market Capitalization here, at Rs 3 lakh crore. Maruti is second, with Rs 2.5 lakh crore, and then we have the other 2 – Tata Steel being the smallest at Rs 1.3 lakh crore.
At the time of writing of this post, Adani Green is the 15th largest company in India by Market Cap, and has the highest Price to Sales Ratio in all companies in India with a market Cap > Rs 100,000 Crore. There are 49 companies in India at this point with Market Cap > Rs 100,000 crore. Infact, Adani Green has the second lowest sales in these top 49 companies in India.
Consider this: These are some of the companies which are smaller in Market Cap than Adani Green at this point – L&T, Maruti, Axis Bank, Titan.
The following companies' market cap is less than half the market cap of Adani Green – Tata Steel, NTPC, Hindalco, M&M.
You get the gist. Of course – the business can deliver value in future, and that is what the stock prices show. Markets seem to believe in the alternative energy theme worldwide, but it is interesting to see the valuations. Maybe the company is able to be the breakthrough company in this space in future. Do remember though, that the risks are also in future, and the more you pay for future expectations, the higher risks you entail.
Disclaimer: Not a recommendation to Buy or Sell any security.
Budget 2022 Review
We recently did a short review of the budget 2022 – You can find the video here
Recent LinkedIn Posts
Where does Titan Make its Revenues from – View here
India's Smartphone market – Who are the major players – View Here
Recent Blog Posts
Understanding Companies – Thyrocare – This Blog post will give you a detailed insight into the Diagnostics business.  You can read the post here
If you liked the newsletter, consider forwarding it to your friends. We have recently launched this newsletter, and it is now read by more than 5000 people. If you think any of your friends will benefit from this – they can sign up here – https://finshiksha.com/newsletter/
Till next week. Continue learning. And do write to us if you have any thoughts you would like to share / suggestions you would like to make.