What happens when new players enter a profitable business?
If a business is profitable, someone will try to come and get your margins and market share. We have seen this threat of new entrants time and again. Grasim is the latest example, as they plan their entry in the paints sector
They had announced this in early 2021, and now have doubled their target capex to Rs 10,000 crore. They will have a capacity of 1.3 billion litres of paint, as against that of Asian Paints at 1.7 bn litres and Berger at 0.7 bn litres.
It is not a very capital intensive sector. If you look at Asset Turnover for Asian Paints, it would be very high. Thus, it makes it easier for a player with deep pockets to come and quickly setup capacity.
What does the Threat of New Entrants mean for the sector?
If a large player tries to challenge the market leader, it is surely not good news for the other players. We have seen this play out in Telecom. This rise in capacity will increase the competitive intensity in the sector. Pricing power of the players in the sector will go down. Infact, since Grasim announced this foray in Jan 2021, the returns on Asian Paints stock has been close to 0%. Berger and Nerolac are down more than 30% in this period. Clearly, the markets are sensing an erosion in pricing power.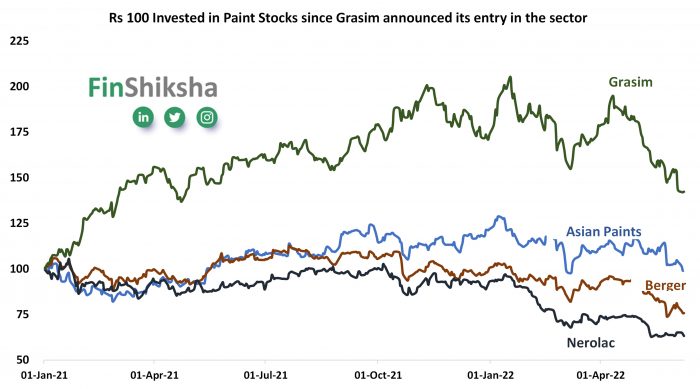 What next?
Only time will tell whether the leading players are able to manage their margins. However, this again shows the importance of entry barriers in an industry. If an industry has a high threat of new entrants, since there is no regulation, and capital intensity needed is not high, then the incumbents will always see the risk of new players coming in. We would be careful on the sector, especially given the rich valuations, and the fact that the cost structure gets directly impacted by crude prices.
Recent Blog Posts
Inflation is rising. Can we have a Volcker moment yet again? Read it here
Recent LinkedIn Posts
India's credit card and debit card stats – bankwise – View it here
We are planning to move this newsletter to Friday evening, instead of Saturdays. Would that be something that you would want to happen? Do write to us with your thoughts. Till next week!