Eicher Motors used to sell 50,000 Royal Enfield bikes annually in 2010
Then something "Classic" happened!
Eicher went from selling 50K bikes a year, to 70K bikes a MONTH, all in 8 years!!
How did Eicher Motors do it?
In 2010, the overall 2 wheeler market was about 1 crore units. Eicher had a monopoly in premium bikes (above 350 cc), and thus the market share of premium bikes was 0.5%. With an upwardly mobile consumer segment, and rising disposable incomes, demand for premium bikes was going to rise.
Then, Eicher launched the Royal Enfield Classic, which took the market by storm!
Even then, it is one thing for the industry to provide you tailwinds. It is another to be able to execute capacity expansion, along with maintaining market share. That is what Eicher achieved.
By 2014 end, they were selling 3 lakh bikes a year. By 2018, it became 8 lakhs a year!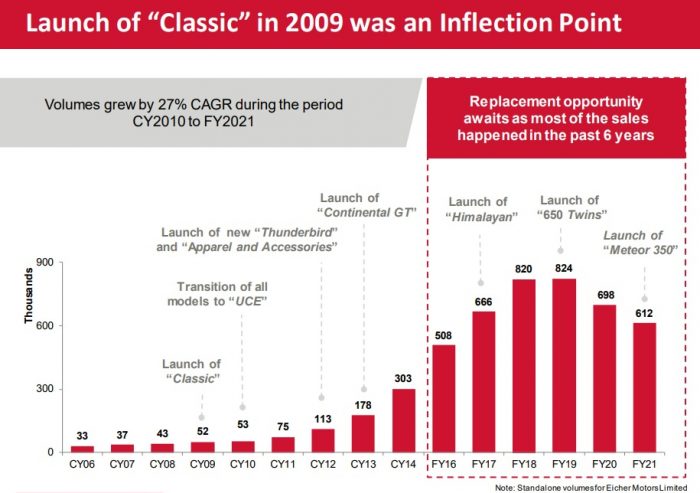 Image Source: Eicher Motors Investor Presentation
If you want to see what achieving scale with profitability is, look no further.
The next 3-4 years were tough for the entire 2 wheeler industry, but even now, the company sells nearly 50-60K bikes a month.
The market also rewarded the company and shareholders for this stellar performance. Market cap, which was Rs 1700 crore in March 2010, reached Rs 75000 crore by FY18 – a jump of more than 40 times
How many such companies do you know of?
FinShiksha Learning Championship 2022
Last 2 days to go, before enrolment closes. For more details visit here
Recent Blog Post
P/E Ratio and its limitations – Read it here
Till next week. Wishing you a very Happy Independence Day!