Are rate hikes bad?
RBI hiked rates this week. This was a sudden mid-policy announcement, just a month after they had maintained status quo.
The US Fed also hiked rates, as widely expected.
Equity markets globally got a rude shock, and sold off significantly. The interesting bit however is that Indian markets have not broken the low they created in March, while US markets are just around it.
Wider market carnage has been higher. Consider this
India has about 987 firms above the market cap of Rs 1000 crore as of yesterday's market close.
Out of these,
178 firms have corrected 40% or more from their 52 week high
400 firms have corrected 30% or more from their 52 week high
678 firms have corrected 20% or more from their 52 week high
Nearly 20% stocks have corrected 40% or more. Almost 70% stocks have corrected 20% or more. The market is still down less than 12%!
Look at some of the more prominent names and their drawdown from their 52 week highs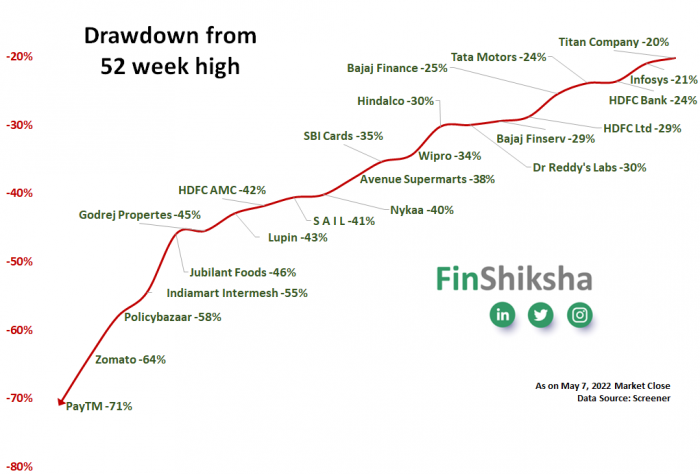 Rate hikes are not always bad
When the central bank hikes rates – it does that in order to control inflation. But the only inflation that can be controlled is demand led. Which inherently means that there is an element of growth involved. Rates when they go abnormally high, become a problem. When they go abnormally low, like they have been for the past few years, they create inflation. But usually, while hiking rates, the central bank is giving a signal that growth is strong, which in itself is positive for the equity markets. The best bull run in global equities coincided with a continuous rise in rates across the world (2004 to 2007). Rates hikes act as short term shocks to the bull market, but the overall trend is usually dominated by growth.
Can the markets go lower – Absolutely
Is the market bottom in – There is no way we can confirm
But the risk reward is far more favorable than what it was 6 months back. Wider array of stocks have corrected, and a lot of bad news has been absorbed. Overall companies are significantly less leveraged, economies have opened up, and NPA cycle is largely behind us in India.
Recent Blog Posts
We wrote something on Nykaa and its business model – Read it here
Campus Activewear is listing soon – Read a short note here
Recent LinkedIn Posts
India's freight market share – View it here
Major players in the Indian Electric 2 wheeler market – View it here
Till next week. Keep Learning, and Keep Shining. And do ask your friends to sign up for our newsletter here